The flow of inward remittance dropped by nearly 12 per cent in March following coronavirus outbreak in different parts of the world, officials said.
Remittances from Bangladeshi nationals working abroad were estimated at US$1.29 billion in March last, registering a decrease of $171.88 million from the same month a year ago. It was $1.46 billion in March 2019.
The central bank officials feared that the inflow of remittance might fall further in the coming days if the spread of coronavirus outbreak continues.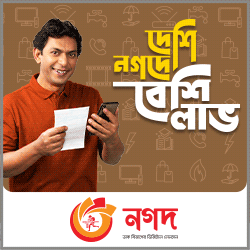 "Our major sources of inward remittance countries including the Kingdom of Saudi Arabia, the United States and the United Kingdom are almost under shutdown due to the virus disease," a senior official of the Bangladesh Bank (BB) told the FE on Friday while explaining the falling trend of remittance.
On the other hand, the flow of inward remittances fell by 11.39 per cent to $1.29 billion in March 2020 from $1.45 billion in February 2020, according to the central bank's latest statistics.
The falling trend of inward remittance has started since the third week of March, according to the central banker.
In the last week of March, the central bank resumed selling of the US dollar to banks directly for offsetting extra pressure on the market caused by lower inflow of remittance following coronavirus outbreak.
As part of the move, the BB sold $40 million to three commercial banks on March 25 to settle their import payment obligations particularly for liquefied natural gas (LNG) after more than a one-month interval.
The BB data showed that the flow of inward remittances maintained a satisfactory trend till February following incentive being provided by the government.
The inflow of remittances grew by more than 20 per cent to $12.49 billion during the July-February period of the current fiscal year (FY), 2019-20, from $10.41 billion during the same period of the previous fiscal.
The government has already allocated Tk 30.60 billion as incentive in the budget for FY '20 to encourage expatriate workers to send their money through legal channels.
The central bank had earlier taken a series of measures to encourage expatriate Bangladeshis to send their hard-earned money through the formal banking channel instead of illegal "hundi" system in order to boost the country's foreign exchange reserves.