Government's net borrowing from the state-sponsored savings instruments slumped in October from September tally due mainly to deep cuts in yield rates.
This led the government to borrow higher amounts from the banking system.
The statistics of the Department of National Savings (DNS) show the net sales of savings certificates at Tk 28.25 billion in September while the figure shrank to Tk 7.66 billion in October.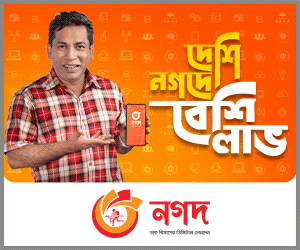 With the sales of savings instruments declining, the dropped by more than 57 per cent in the first four months of the current fiscal year (FY) 2021-22 from the level in the corresponding period of last fiscal.
Officials attribute such a drastic fall to reduction in yield rates on savings instruments recently by the government.
Up to 2.0 per cent of yields were slashed on almost all savings schemes on September 21.
According to the circular, issued by the Internal Resources Division (IRD), the savers will receive old rates of yield on up to Tk 1.5 million of their investment in different savings schemes. Rates on already-opened ones will also remain unchanged.
The net sales from the savings schemes stood at Tk 93.24 billion in the July-October period of this FY. The amount was Tk 156.42 billion in the same period of last fiscal.
The DNS statistics found the gross sales of savings tools worth Tk 353.28 billion and encashment Tk 260.04 billion in the four months. On the other hand, the yield payments of during the period amounted to Tk 118.12 billion.
The highest net sales were recorded at Tk 88.45 billion from Family Savings Certificate, followed by Tk 24.41 billion from Three-Monthly Profit Bearing Savings Certificate, and Tk 10.83 billion from Five-year Bangladesh Savings Certificate.
The government has fixed the borrowing target from savings tools at Tk 303.02 billion for the FY 2021-22.
Meanwhile, the DNS showed the net sales of national savings tools as high as Tk 419.59 billion in the FY 2020-21 against a target of Tk 200.00 billion.
Around 20 million investors are involved with this sector, DNS officials said.
Meanwhile, the significant fall in the sales of savings certificates had necessitated the government to enhance its borrowing from the country's banking system, official figures revealed.
The government borrowed more than double last Sunday through issuing two types of treasury bills (T-bills)--91-day and 364-day ones- to meet its budget deficit partly.
A total of Tk 66.81 billion was borrowed on the day instead of pre-auction target at Tk 25 billion through issuing the T-bills, according to the officials
Deficit amount in the government accounts stood at around Tk 45 billion as on December 05 from Tk 22.50 billion two days before, according to official data .