Experts at a programme on Saturday called for rigorous river training and river dredging to revive the country's waterways for transportation of goods and passengers at the cheapest rate.
Besides, they said, the yearlong functionality of river routes can significantly reduce existing pressure on roads and highways across the country.
They also urged the government to rationalise import duty, VAT and advance income tax (AIT) on dredging equipment in a bid to encourage private investments in the sector.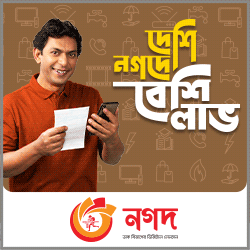 The suggestions came at a webinar titled "Sustainable River Dredging: Challenges and Way forward" organised by the Dhaka Chamber of Commerce & Industry (DCCI).
State Minister for Shipping Khalid Mahmud Chowdhury addressed the event as the chief guest while a member of parliament and former FBCCI president Md Shafiul Islam Mohiuddin and Senior Secretary of the Ministry of Water Resources Kabir Bin Anwar as the special guests.
Ainun Nishat, Professor Emeritus at Centre for Climate Change and Environment Research (C3ER) under BRAC University, presented the keynote paper at the event while Bangladesh Inland Water Transport Authority (BIWTA) Chairman Commodore Golam Sadeq, Institute of Water Modelling (IWM) Executive Director Abu Saleh Khan, and PSA International Pte Ltd Vice President Robert Hennessy also spoke at the webinar with DCCI President Rizwan Rahman in the chair.
In his presentation, Prof Ainun Nishat said a master plan is required for sustainable river and canal dredging in the country so that the economy can benefit from it.
He also said saving the rivers through ensuring smooth passage of water is not just important for the economy but also for biodiversity because 'rivers not only carry water but also life'.
Stating that the private sector can play a major role in dredging operation, he said the importance of investments on dredging and de-siltation work cannot be done only by the government, investment from the private sector is also needed.
To create skilled manpower in the sector, he called for establishing a river training institute to train private dredging operators in a bid to sustain the dredged riverbeds.
PPP can be a useful model for river dredging, sand extraction, land recovery, land accretion and land reclamation, he also noted.
Delivering his speech, the state minister said the government has taken a plan to make 10,000-km inland river ways navigable as per the Bangladesh Delta Plan (BDP)-2100.
"We have limitations and challenges but we must have to manage our rivers through efficient dredging as these are our natural assets."
Mr Chowdhury said the capacity of Mongla port has been increased manifold after dredging the Pashur channel. As a result, it has eased pressure on Chittagong port.
Besides, he said, the government has been working relentlessly on sustainable river dredging both in the form of capital dredging and maintenance of dredged riverbeds.
To bring pace in the dredging activities, the Ministry of Shipping is in the process to procure 35 more dredgers shortly, he added.
The DCCI president said despite Bangladesh being a riverine country, the number of rivers has been decreasing due to siltation and reduced water flow.
Such a situation affects waterways which is the cheapest means of transportation in the country, he noted.
"It is high time to improve the waterways for the sake of both industrial and socioeconomic development of the country as Bangladesh is poised to become a developing country by 2026," he said.
He also mentioned that 24,000-km waterways come down to 6,000 km during monsoon and 3,600 km during the lean period due to the dynamic characteristics of the rivers and its effect falls into the economic and ecological state of the country.
Mr Mohiuddin suggested ensuring better coordination among stakeholders like BIWTA, water development board, ministry and private sector to avoid unplanned dredging of rivers and canals.
He also requested the government to reduce tax and VAT on dredging machinery & equipment and remove inconsistencies in the policy to boost private sector confidence.
Advance income tax on dredging companies is increased to 5.0 per cent in the current fiscal from the previous 1.0 per cent which should be removed for the sector's growth, he noted.
Stressing the need for a holistic approach for a sustainable maritime system, Mr Anwar said, "Currently, we need about 500 dredgers but we have 150-156 dredgers in hand."
For capacity building, the country is still far behind, he said, adding: "Maintenance dredging and capital dredging is in progress but it should be expedited in an efficient and skilled manner."
He also said the government has taken up various projects to excavate rivers, haors, baors and beels in the country for ensuring better navigability.
The government is planning to establish a hydrological training and research institute, he also said.
The BIWTA chairman said inland water transport is the most effective mode to move a large quantity of cargo because tariffs for cargo are below Tk 1.0 per ton-km whereas for the road it is Tk 4.5 per ton-km.
For cargo freight movement in Bangladesh, the road is used by 80 per cent whereas waterways are used by only 16 per cent.
For a better outcome in this sector, he suggested allocating at least 1.5 per cent of the gross domestic product in the budget which is 0.4 per cent now.