As Dilip Kumar passed away on Wednesday (July 07, 2021) morning, condolences poured for the legendary actor who set trends in the movie industry in the subcontinent. His fans, co-artists, celebrities, politicians and innumerable people paid rich tributes.
People around the world started browsing around his movies and scenes of playback songs dubbed by him on the social media networks.
Dilip Kumar, whose original name is Yusuf Khan, is very much present in the memories of the Bangladesh people, especially the elderly people, who watched many of his popular movies.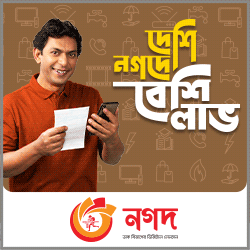 Following are five of his most iconic movies.
Jugnu (1947)
Jugnu was the film that hit Dilip Kumar to commercial success and was aired in the year when India and Pakistan became independent. It went on towards the highest-grossing Indian film at the time and it had lots of fans and viewers from Bangladesh (the then East Pakistan). The film starred Noor Jehan, Shashikala, and Mohammed Rafi in a cameo appearance. This film unlike many of the films featured during that time was a breezy romance meeting a tragic end. This film taught people that life is not a bed of roses and love stories are certainly not how it is portrayed in the movies. The tragic end gives a realistic outlook on how romance actually is in human life.
Daag (1952)
Daag, where Dilip Kumar plays the role of an alcoholic seeking reform to turn his life around, won him his first Filmfare Award in the Best Actor category. This film also starring Nimmi, Usha Kiran and Lalita Pawar manifests how an alcoholic redeems himself and finds his way back to life. The film directed by Amiya Chakravarty was a hit at the box office. It teaches people how everyone can change and turn things around if they are willing and have the resolve to do so. It draws attention to the despondency felt by people resulting from insobriety and asks people to help them in coming together.
Devdas (1955)
"Devdas" is based on Sharat Chandra Chattopadhyay's eponymous novel. The Bangla version starred Barua himself as Devdas, Jamuna Barua as Parvati (Paro) and Chandrabati Devi as Chandramukhi. It is part of the Bangalee heritage and according to Mohammad Jahangir Hossain, director general of BFA, India had been on the lookout for this film for 30 years. A remake of the film and famous novel was made again in 1955 starring Dilip Kumar which won the Filmfare Award. It is considered to be one of the best performances by Dilip Kumar as an actor. This powerfully depicts the social customs prevailing in the Bengal during the 1900s and criticises the feudal lords i.e. "Zamindars" during the time and shows how this classist mentality was responsible for the prevention of the happy ending of a genuine love affair.
Madhumati (1958)
Directed by Bimal Roy and written by Ritwik Ghatak, this film focuses on Anand, a modern man who falls in love with a tribal woman named Madhumati. The film won nine Filmfare awards and a National Film Award as well and became one of the highest-grossing films of 1958. It was also the first re-incarnation drama of its kind at the time. It sheds light on how the classist mentality that prevailed in society at the time affected romance and how it separated and drew the line between people. It teaches the masses how superficial labels do not make a person and that people from different backgrounds can always find love and happiness in one another. It was depicted through the love story between Anand played by Dilip Kumar who was a modern man and Madhumati, a tribal woman played by Vyjayanthimala.
Mughal-E-Azam (1960)
Breaking box-office records and becoming the highest-grossing film in India, a feat it proudly carried for 15 years, Mughal-e-Azam was the first black and white movie to be colourised and re-released in theatres. The movie revolves around Selim (played by Dilip Kumar), the son of the Mughal Emperor Akbar, and the girl he falls in love with, Anarkali (played by Madhubala) who was a court dancer. The shocking discovery behind this forbidden relationship led to Anarkali being imprisoned by Akbar and Selim declaring war on his father which he eventually lost. Selim was sentenced to death following this but Anarkali offered herself up in exchange for Selim's life and wished that she spent her last few hours with him. In a turn of events, Akbar was reminded of a favour he owed Anarkali's mother which ultimately results in him secretly letting Anarkali flee away with her mother under the condition that Selim does not ever come to know of it. This film won the National Film Award and three Filmware Awards. It teaches us that not everything in life works out the way one wants or plans them to. It is sometimes better to accept the reality and move forward than fight it and endangering the very existence of the loved ones.
Dilip Kumar received the Padma Vibhushan, India's second-highest civilian award, in December 2015 and shall remain and go down in history as one of the most inspirational actors the sub-continent has ever seen. His movies and bold roles in them have beautifully brought out the social customs, culture and realistic scenarios prevailing in Bangladesh and India and helps educate the masses through attractive storytelling. May his soul rest in peace.