He was just a boy of two years old when Warfaze started its journey. One day, his sister brought a Walkman for him from abroad. It became his day-night companion. He grew up listening to the band which would eventually be his destination.
Palash Noor, the boy who spent his childhood listening to Warfaze songs, became the vocalist of the band one day.
"I never thought I would become a member of Warfaze. I idolised them and now it feels really good to be one of them," shared a happy Palash regarding his journey to Warfaze, a band that is synonymous with songs like Asha, Purnota, Obak Bhalobasha, Rupkotha, Boshe Achi, Protikkha, Oshamajik and many more.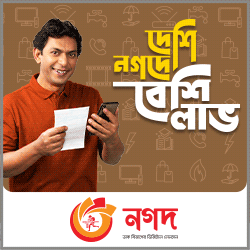 The heavy metal band Warfaze has stepped into its 37th year. It was formed back in 1984 by five youngsters Kamal, Meer, Helal, Naimul, and Bappy. Later the current bandleader Sheikh Monirul Alam Tipu joined the band.
Initially, Warfaze used to cover bands like Deep Purple, Whitesnake, Dokken, Iron Maiden, and Guns N' Roses, some of the most popular British and American Rock bands from the '70s and '80s decade. Their first album, titled 'Warfaze,' was released on 21st June in 1991.
The album was primarily a shock to the native listeners as most people didn't listen to such music previously. The music scene was completely different then. Heavy metal was still absent in the local industry; let alone the audience, even musicians could not imagine something like the Warfaze would happen. Their sound was completely different from that of the existing musicians. With distorted guitar and heavy sounds, they instantly stood out. But it was not very easy for them to do this kind of music back then.
Monirul Alam Tipu remembers, "It is not easy to do music in our country. Especially heavy metal or rock. Back then, it was challenging for us. But we did what we believed and what we loved to do." Nevertheless, he knew the band had to continue the novelty they had brought in the country's music scene, and popularity would follow eventually.
To Palash, who was a teenager at that time, the sound and the music were astonishing. "We used to hear other musicians but Warfaze was something different. It broke the conventional sound of a band," he says.
Many talented musicians of Bangladesh worked with Warfaze. Most of them are currently living abroad. Prodigy like Oni Hasan, Russell Ali played for Warfaze. Bassbaba Sumon (Saidus Khaled Sumon), who is the frontman of Aurthohin, also played and sang for Warfaze. Vocalists Babna Karim and Sunjoy were part of Warfaze. Romel Ali, Balam, Mizan, Sazzad Arefeen, Cezanne, and many more had their own chapters with Warfaze. It was the place for legends, as Palash says-
"You know, in Warfaze, there were so many legends. Whoever became a part of Warfaze, marked their name in the history of the Bangladeshi music industry. It's not because of the name, it's because of their calibre. All of them were great musicians in our industry."
"I feel very good when legends like Kamal vai, Tipu vai come to me and ask for suggestions. It makes me feel really good. They are so nice and gentle human beings that they take all the suggestions and then make a decision. This takes the songs of Warfaze to another level."
After a journey of 36 years, Sheikh Monirul Alam Tipu sees some changes. Although the road was slippery, he now smiles, reminiscing about all the adversaries along with their journey.
"It was not easy at all to do heavy metal at the early stage. People didn't consider us good. They didn't take our music (heavy metal) seriously. But now this perception is changing; now people are taking heavy metal seriously."
After the self-titled debut album, Warfaze released six more studio albums and one compilation album. The last album was 'Shotto' which was released back in 2012. It was an enormous hit. But what about the next? Tipu gives some relieving and exciting news for the fans as Warfaze is preparing to bring something almost after a decade.
"We were planning to release our latest album at our three decades anniversary. Unfortunately, the Covid situation arrived and we couldn't release the album. But we are now working on it and hopefully, we will release the album by next year."
Pandemic effect
The Covid-19 made the lives of musicians hard. Live concerts have not happened for almost one and a half years. This affects the musicians both mentally and financially. Even though Warfaze is getting proposals for live shows, they are rejecting the offers for health concerns.
"For a musician, it is very important to perform live. They interact with the audience in the live shows. Apart from the financial side, the current situation is very hard for performers. We are not finding inner peace," sighs Tipu.
"Financially, it is a very saddening situation. See, when there is no way to perform live, we are not earning. Musicians are living in frustration now. Hope this will be over and we will play live again."
The audio industry is evolving. Recently the music streaming platform Spotify was launched in Bangladesh. And Tipu believes, "It is a positive sign. Our musicians will have the chance to portray their talent globally."
However, Palash has a different perspective. He compares the availability of music with his era to explain how things are not working properly.
"When we were kids, we used to play a cassette again and again. It was like a complete experience. But it is gone now. We used to recognise a band by just listening to a part of the song. It's because we knew their signature sound, which is not the case these days. As musicians are not getting the proper response, they don't know what they should sound like."
Warfaze is now working on their next album. They are busy in the studios. When the pandemic will be over (hopefully), the heavy metal-loving people will see Warfaze live again. The only thing they are now waiting for is the pandemic to ease and the music industry to revive again.