Solar power panels are being used in 12 upazilas of the district as an alternative to electricity. It may reduce power outage in the district, experts said.
The government is distributing solar power panels among different installations, schools, markets, mosques, temples, haats and bazaars in 12 upazilas of the district.
The street lights are illuminating the roadside areas consuming solar power constantly without any hassle of the load shedding. Thousands of people of many remote areas are being benefited during their movement at night.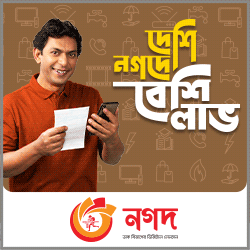 The solar street lights have been set up at haats, bazaars, educational institutions, hospitals, mosques, temples and other important places of the villages.
As a result of setting up of solar-powered streets lights at important places, pressure on electricity supply and load-shedding may reduce.
Upazila chairman of Delduar, Maroof Hasan, said the number of drug addicts and many untoward incidents on the streets has come down considerably following the setting up of the solar panels along the roadside of the upazila.
Police patrol teams can perform their duties comfortably at night in illuminated roadside areas to maintain law and order.
Moreover, incidents of theft, rustling, burglary, drug-taking and other crimes committed in the dark have reduced to a great extent, Mohamed Salauddin, inspector of Tangail sadar police station said.
Tangail sadar upazila office sources said the government has already set up the solar street lights using special solar panels to illuminate rural areas at hundreds of important points paving the way for free and safe movement of people in different unions of the upazila.
A total of about 15-kilometre of roads and different institutions, haat-bazaars, mosques and temples have been illuminated by solar power in the area..