MAGURA: A remote village Jagdal of Magura is now vibrant with ample Malta(sweet orange). Septuagenarian farmer Waliar Rahman of the village deserves this glorious credit .
From his boyhood Waliar had a great passion to farming . Four years back he made a plan to produce malta on his land . With the help of horticulture expert Dr Moniruzzman he started malta cultivation in his own land .
He collected Bari - 1 seedlings from a nursery of Jhumjhumpur area in Jashore. Then started matla cultivation covering his 160 decimal land in 2020. Finally his persistence and endeavour have returned fruitfully this year .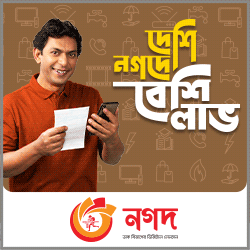 This year he is expecting 800 maunds of malta from his garden . In the meantime he has sold malta worthTk 2.5 million (25 lakhs) and he is expecting more 0.5 million (5 lakhs)taka from his malta . At the same time malta garden has created employment opportunity for07 to0 8 labourers in his garden .Farmer Waliar needs not to go anywhere for selling his malta as traders come to his garden to collect the fruits.
When contacted, Waliar Rahman said , "I have invested Tk about 0.7 million (7 lakhs) in my garden within 3 years . This year I shall be able to earn Tk 3 million (30 lakh) from malta . I am optimistic to sell malta from my garden for more 12 years . I started malta cultivation out of only hobby . But now I find this gardening as a lucrative business. Now I am planning to extend malta cultivation as I shall be able to attain more solvency and provide more employment" .
On contact, Horti culture expert Dr Moniruzzman said,"We are proud of the success of farmer Waliar . Sandy loaf soil is congenial for malta production . As soil of Magura is mainly sandy loaf this district holds a bright prospect in malta production. At the same time slightly acidic soil of this district is a boon to malta growing . The most interesting thing here is Magura soil Is almost entirely salinity free. Consequently malta produced in the district is sweet in taste ".
When contacted, project director of year round fruit production (YRFP) project Dr Md Mehedi Mashud said, day by day malta cultivation is increasing in the country. At present production of malta in the country is 30 thousand mts while the demand is 0.2 million (2 lakh) mts . We are facing deficiency of one lakh and 70 thousand mts malta in the country at present, he added. "We are optimistic, if we can move forward at existing pace we shall be able to save huge amount of foreign currency by meeting up our malta demand with our domestic production .At the same time huge employment can be created boosting rural economy".
When contacted, public health specialist, assistant professor Dr Abdullahel kafi of Magura medical college said , malta helps develop immunity in human body . The fruit can remove malnutrition as it contains high nutrition he said adding Malta has an speciality as diabetic patient can take this.