A local market in Cumilla's Lalmai witnesses a sale of cow milk to the tune of 12,000 litres every morning.
Some 15 milk traders buy the milk from some 2,000 small and medium dairy farmers at the local market, Bagmara Bazar, farmers and traders say.
The farmers who sell their milk at the market come from five nearby unions, including Perul North, Perul South, Volain North-South, they say.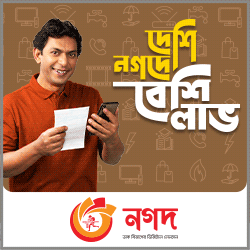 Some farmers are largely involved in dairy farming in Cumilla and they sell their cow milk directly to various establishments in Laksam and elsewhere in Cumilla, according to them.
This correspondent has recently visited Bagmara Bazar and found small and medium farmers arriving at the market with their milk by riding in bicycles, rickshaws and CNG-run auto-rickshaws.
A dairy farmer from Amua village, Moksed Mia says, "I have sold my all 25 litres of milk at Tk 40 per kg this morning."
The dairy farmer says they have to sell milk at around Tk 30 per litre when the market is down.
A milk trader, Akhter Hossain says, "I have been collecting milk from here for the last eight years. Today I have bought milk at Tk 40 per litre".
He says he collects 1200 to 1300 litres of milk from this market per day.
Asked how much he will sell the milk that he has bought at Tk 40 per litre, he says it will be sold at Tk 48.
Like him, he says some 15 traders collect milk from this market.
Abdul Aziz, director of Aziz Dairy Farm in Silonia village and general secretary of the District Dairy Owners Association, says Bagrmara Bazar has a name as a milk market for decades.
"We would first sell milk here. Now we supply it directly to traders in Cumilla town. I use the rest to make yogurt and sweets," he says.
Milk sells by the score at Suagazi, Chawkbazar and Burichang markets too , he notes.
However, milk demand falls during the winter and monsoon every year hurting dairy farmers in the district.
Mr Aziz says some new milk markets should be set up in the district so that dairy farmers face no loss in any time in a year. "I have already talked to the district animal resources officer about this," he adds.
District Animal Resources Officer Nazrul Islam says, "We have informed the authorities about the need for new milk collection and storage facilities in the district."
"Hopefully, we can stand by farmers through a project," he adds.