Banana growers of Tangail are making a good profit with the price of the iron-rich fruit going higher this year.
They have also witnessed a bumper yield of the popular fruit crop.
More than a thousand farmers cultivate banana on a commercial basis in this district.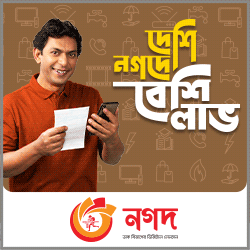 They say they are delighted by the better prices of the fruit crop this year in that they managed to make only average profits in the last few years.
Different varieties of banana such as Sagor, Shabri, Chanpa, Amrito Shagor and Madni are grown in the district, mainly in highland areas – Modhupur, Bashail and Shakhipur.
Of those varieties, Shagor, Shabri and Madni have better demand in the market.
At local markets, Shabri variety of banana is selling at Tk 350 to TK 500 per pon (80 pieces) depending on the size and quality, while Shagor variety at Tk 240 to Tk 320 per pon.
A banana trader at Parkmoydan bazar of the district town, Golap Miah says banana prices are higher than the last few years.
Officials at the Department of Agricultural Extension (DAE), Tangail say farmers have brought 5,388 hectares of land under banana cultivation this year.
With this, a total of 156,548 metric tonnes of banana may be produced this year, they add.
The DAE provides banana farmers with technical and other kinds of support to make their output better.