Leaseholders of Birisiri Ferry Ghat (wharf) in Netrokona's Durgapur are building a new wooden bridge with bamboo poles nearby there over the Someswari River, which locals say will ease their sufferings.
A total of 25 workers have been working for 35 days to build the bridge measuring 418 feet in length and eight feet in width.
According to them, it may take 12 more days to complete the bridge.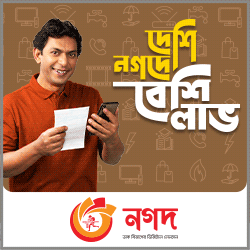 Locals say the makeshift bridge that leaseholders of the ferry wharf are now building there will bring a relief for people living in the area.
People of more than 100 villages under Kullagara and Gaokandia unions in the Durgapur sub-district will benefit from this bridge, they say.
Among them, students, patients and others who have to commute through the ferry wharf on a regular basis will be the major beneficiaries of this wooden bridge, they add.
The bridge will also be a relief for tourists in the area, according to them. Birisiri, a quiet and welcoming place, has a name for tourism across the country.
Birisiri, also a ward of Durgapur municipality, and the municipality have been divided by the Someswari river.
Durgapur Upazila Parishad Chairman Jannatul Ferdous Jhuma says the leaseholders of Birishiri ferry wharf are building there a wooden bridge for a second time.
Md Rukan Master, one of the leaseholders of the ferry wharf, says they are building the makeshift bridge at a cost of Tk 0.8 million to alleviate the long suffering of people in the area.
Md Kajal Mia, a resident of Bhabanipur village, says, "The work on the wooden bridge started in last November and it will be completed by mid-December.
People can use this bridge to cross the river in the dry season, while they in the rainy season have to cross the river by boat, he says.
Rubel Ahmed, a student at Susang Durgapur Government College, says the problem becomes so serious during the monsoon that they have to cross the river by boat risking their lives.
Rahis Uddin, a businessman from Bamanpara village, says they have been suffering for want of a concrete bridge there, as they have to face serious problems while commuting the market.
Locals say they have been pushing for a concrete bridge over the river for around 25 years but the authorities are yet to see to it.
The Executive Engineer of the Roads and Highways Department in Netrakona, Md Hamidul Islam, says they have been studying the feasibility of building a concrete bridge over the river there.