Three bridges —one in Sunamganj and two in Gaibandha — have been lying unused for two years due to lack of approach roads.
In Sunamganj's Jamalganj, the bridge over the Rokti River was built two years ago but people cannot use it due to lack of approach roads, locals say.
The Local Government Engineering Department (LGED) started the bridge project, worth Tk 481 million, in 2014 and completed it in 2018.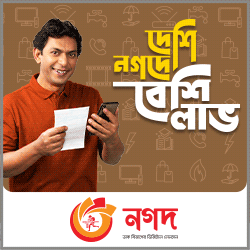 The LGED is also responsible for constructing the approach the roads to the bridge but it is yet to do it, leaving the bridge useless for two years.
Sachnabazar Union Parishad's Member Mizanur Rahman says it is unfortunate that the bridge is there but people still have to use ferries to cross the river.
An LGED official says the approach road designs to the bridge had to be changed on technical grounds after construction of the bridge and so it has been taking so much time.
A total of Tk 80 million has been allocated for constructing the approach roads to the bridge, he adds.
Jamalganj Upazila (sub-district) Engineer Abdus Sattar says they have already appointed a contractor to construct the approach roads to the bridge.
He hopes that the construction of the approach roads will be completed by June or July 2021.
As for two bridges in Gaibandha's Fulchhari, locals say the bridges have been left useless for two years since floods washed away the approach roads to both the bridges in 2018.
Locals, who mostly depend on agriculture, demand the repairing of the approach roads to the bridges immediately.
When the bridge was in use, they could take their agriculture produce to markets without counting extra money but now they have to do it, denting their profit margin, they add, citing winter vegetables.
Officials at the Upazila Administration Office say a 20-meter-long bridge near Gazaria Shelter Project was constructed at a cost of Tk 2.0 million and a 40-meter-long bridge to the north of Nilkuthi HBB Road at a cost of Tk 3.0 million under the supervision of Department of Roads and highways and Upazila Disaster Management.
Within six months of construction, the connecting roads to the bridges were washed away by floodwaters, according to locals.
Asked, Upazila Nirbahi Officer (UNO) Md Abu Raihan Dollon, expressing ignorance of the matter, says after looking into it, he will see that the repairs start soon.