NETRAKONA: For the first time, cultivation of sunflower has started on the highlands of Netrakona Haor area. Farmers are expecting bumper yield of sunflowers.
Sunflower cultivation have begun on 53 hectares of land in 07 upazilas of the district this year. Department of Agricultural Extension is supplying fertiliser and seeds as incentives to the farmers.
Farmers said paddy cultivation in Haor area is not very profitable. The amount of money spent on paddy cultivation is not recoverable. So they are expecting more profit from sunflower cultivation than other crops.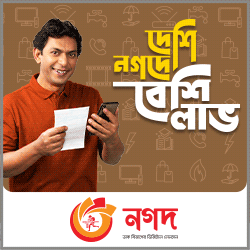 It is learnt that sunflower has been cultivated on 300 bighas of land in Khaliajuri upazila this year. Farmers have cultivated sunflower in different places of the upazila like Jagannathpur, Kadirpur, Nayagaon and Ballabpur villages.
Sabinoy of Kadirpur Union said, "I have cultivated sunflower on one bigha of land. I hope I will get good yield. It is possible to produce at least half a litre of oil from per kg of seed. Sujan, a farmer from Jagannathpur village in Mendipur union of the upazila, said, "It cost me around Tk 6,000 to cultivate two bighas of land and the profit will be Tk 8,000 excluding the production cost.
Khaliajuri Upazila Agriculture Officer Habibur Rahman said the cost of cultivating sunflower is less than other crops. It takes less fertiliser. One doesn't even have to take care of the field.