SYLHET: Road and bridges are there, but boats are the only option during the monsoon. The road couldn't be used during the dry season while the people have to drive motorbikes amid risks through the diversion road. They have to use bamboo-made spans to use the bridge on the Dharmapasha-Joysri road in remote Sunamganj.
None of the four bridges, constructed on the same road could be made usable as yet due to absence of approaches. During the monsoon, the locals can just see the bridges on the waters around. Since 4 km of the 7 km kutch road is washed away, locals can't even walk smoothly, no scope to use vehicles.
In such a situation about 0.1 million (a lakh) inhabitants of villages under at least four unions like Joysri, Sukhair, Rajapur Uttar, Rajapur Dakshin etc in addition to the neighbouring upazilas-Tahirpur, Jamalganj and Sunamganj Sadar have to suffer much.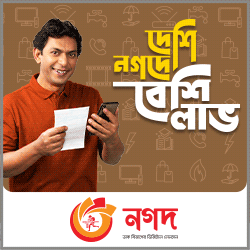 Under a World Bank project a construction firm started Taka 210 million work on the 10-KM Dharmapasha-Joysri road in 2007, but failed to finish the job. Fresh contractors started work in December 2010 as they were awarded the work alongside others at a cost of Taka 132 million for a total 51 km.
They also failed to complete the job, but managed drawing the bills. On enquiry the Anti Corruption Commission (ACC) Deputy Director Shubhash Chandra Datta filed a case with Dharmapasha Police station on October 4, 2016 for misappropriating Taka 10242,334 against the accused persons on the project.
Locals had long been demanding reconstruction of the road.
Joysri Union Parishad chairman Sanjay Roy Chowdhury said the road is the only cause of suffering for the locals in the vast haor region. Thousands of them have to suffer extreme, he added demanding immediate steps for reconstruction of the road.
An official in the LGED said the government had already planned a flyover in the area, which would end the suffering. However, the process is on for construction of 50 metre approaches on each of the bridges so that the locals could use meantime.