Inter-cropping inside mango and Guava orchards in various villages under Durgapur upazila is benefitting the farmers financially.
Ripon and Khokon, two brothers of the village Raipara of the upazila, informed they have planted Boro paddy on nearly three bighas of land inside their mango orchard. The mango has been already plucked and now the sheaves of paddy are emerging from the plants.
Ripon said he has been contemplating to grow more food from the same land and decided to till the land and cultivate crops inside the mango orchard. At first, villagers discouraged him saying that it would be not wise to produce crops inside mango orchard since both the crops and the mango will be damaged due to cultivating and irrigating the land for the purpose of crop production. But, he tilled the land and cultivated lentil there. There was a bumper production of lentil inside the orchard.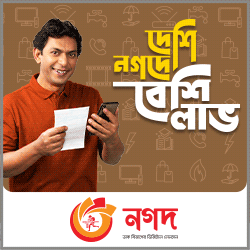 Being encouraged, he planted Boro paddy on the land, though it is late in season, he hoped for a bumper production of paddy as well. However, he said last year there was also a bumper production of mango in the orchard but this year being 'Off Year' of those trees, mango was produced only on a small number of trees.
Shahinul of Jhaluka village said he cultivated five types of crops, vegetables and fruits on a bigha of land. Inside mango orchard he cultivated papaya, chilli, ginger and lemon.
Another farmer Shariful of the same village had planted banana, papaya, ginger, arum, leaf vegetable (Data) and Puisak on the same land and all grew well. He opined that many farmers are being benefitted by adopting the inter-cropping method.
Durgapur Upazila Agriculture Officer Mashiur Rahman informed that the soil of Durgapur is very fertile and the farmers grow three to four crops from the same land a year. Moreover, some farmers reap more benefit through intercropping inside mango orchards.
He added farmers of villages Naopara, Shyampur, Shibpur, Ujan Khalsi, Kanpara, Rasulpur, Daokandi, Chuniapara, Mohammadpur, Kismatpara, Arail, Pananagar, Harirampur, Shalgoria, Debipur, Chuniapara and Bajukhalsi are also cultivating mixed crops in their field and getting extra benefit.
He further said the soil of Durgapur is especially suited for cultivation of various vegetables and crops including paddy, wheat, pulses, banana, papaya, guava, lemon, ginger and turmeric. It is a good trend especially when the land of the upazila is shrinking due to construction of houses and ponds.