Thousands of families on the banks of the Jamuna River are spending their days in panic and anxiety as various places of arrow protection work has collapseddue to the erosionin Bogura.
The correspondent has visited on Wednesday Rouhadah, Kamalpur andIchhamara areas of Sariakandiupazila and found the river bank protection work has collapsed in several places.
Amena, 60, and Rahela Begum, 40, of Kamalpur village, said the dam collapsed due to a landslide in the Jamuna River on Monday afternoon. The breakdown continues here. I can't find the edge of where to go now with the house.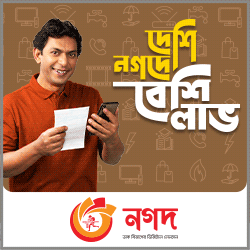 In this regard, MP SahadaraMannan said, "I have already visited the eroded area with the officials of the Water Development Board." "The Water Development Board has been asked to take necessary measures to prevent erosion."
Mahbubur Rahman, executive engineer of Water Development Board, said that sand-filled geo-bags are being dumped on an emergency basis to prevent erosion. Initiatives are being taken to reform the work to prevent river erosion, he added.