BENAPOLE: Helal Khan, who returned from abroad at Chaugacha Upazila in Jashore, has been economically solvent by cultivating dragon.
He has successfully cultivated dragon fruit for the first time in the upazila.
With the hope of earning more profit, he has recently started cultivating the fruit on his 9 bighas of land.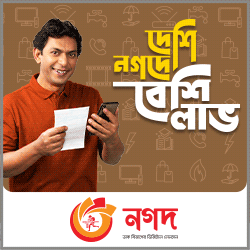 Helal Khan is the youngest son of Yakub Ali Khan of Singhajhuli village in the upazila.
Helal Khan, a very talented man, left Chaugacha Kamil Madrasa and went to Singapore without getting a job in the country in 2009. Luckily he got a well-paid job in a construction company.
Because of his hard work and devotion he was promoted to an important position in the company. At one stage, the company sent him to the Maldives as in-charge of their project.
Helal Khan spent almost 12 years abroad. He returned to the country in the hope of doing something new in his motherland.
Helal Khan, a hard worker, started a low-profit farming business despite having his family-run business.
At first he set up a farm to raise goats. But he failed due to various problems. He then decided to cultivate dragon fruit.
He took the advice of one of the two small dragon farmers in the area and fell in love with it.
He took lease of nine bighas of land in Narayanpur village of the Upazila. He then cultivated the land and set up two thousand one hundred and three RCC poles on the land to make a loft of dragon trees.
He planted eight thousand four hundred and twelve saplings. He has been taking care of the trees for the last 15 months.
Helal Khan said that he applied chemical fertilisers and pesticides on the land for about TK. 20,000 per month. Besides, dung and organic manure are also applied. At present the trees bear huge fruits.
When asked how much fruit can be produced, he said, "I hope that each of the tree will produce seven to eight kilograms of dragon fruit."