The Meghna-Dhonagoda Irrigation Project Dam is a pride project of the district and also one of the biggest Irrigation Dams in Bangladesh.
It was built in 1988 by the then Govt in order to save lakhs of people and valuable properties from unabated erosion by the mighty river Meghna and also to produce bumper crops inside by supplying irrigation water. It is known as `Ring Dam'.
The zigzag dam is 63 kilometres in length that covers 19 unions, mostly of Matlab Uttar and a few unions of Matlab Dakshin Upazilas of the district. About one million (10 lakh) people are living inside the dam.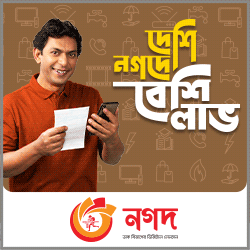 For lack of proper attention and repair works, the dam developed two breaches at vulnerable spots on November 18 and December 26 last year near Janata Bazar in Farazikandi union in Matlab Uttar. As a result, people living inside the dam felt panicked about the flash floods as many areas inside the dam were inundated causing huge loss to the standing crops.
Experts opined that the dam developed breaches due to the heavy pressure of river current and waves of the Meghna. But locals opined that the dam developed breaches due to the mindless extraction of sands from river beds by a section of influential people.
However, on getting the news of breaches and erosion, local MP Adv Nurul Amin Ruhul along with Water Board officials, local Upazila Chairman MA Kuddus and AL leaders visited the spots. Following the visit, repair work was done on an emergency basis by dumping sand-filled GEO textile bags. The erosion was thus stopped temporarily.
Then people demanded of the authorities for permanent repair work in these vulnerable spots of the dam. But it is ignored as yet as though the rainy season has set in in full swing and people are again afraid of fresh erosion/breach at these vulnerable spots due to high waves and strong current of the Meghna river.
On April 28 last, Matlab Uttar Upazila's new UNO Gazi Shariful Hasan visited these spots and the other areas of the dam and then he observed many weak and vulnerable spots here and there of the dam. He observed that the dam is too risky and vulnerable especially at these spots near Janata Bazar.
However, in order to draw the attention of the higher authorities, local people organised a human chain at Janata Bazar on Sunday afternoon. The speakers from all walks of life voiced their demands to take concrete steps to repair the dam permanently here. Failing which, they threatened, they would launch a greater movement in this vital issue.
Cumilla Zone's Water Dev Board's Chief Engineer Jahiruddin Ahmed along with Superintending Engineer Md Jakir Hossain, Meghna-Dhonagoda Irrigation Project's Executive Engineer Mamun Howlader, local experts, and local AL leaders visited the vulnerable spots of the Dam near Janata Bazar. Then he assured the locals of 'Durable repair works at these spots within a week'. He again said, 'We want to keep you all safe from erosion'.