Organic vegetable farming in the Jamuna Char basin under Dhunot, Sariakandi and Sonatola upazilas of Bogura district is gaining momentum.
The farmers are seen happy over organic vegetable farming in the area as the consumers seek such type of vegetable round the year in the kitchen markets. They are getting more financial support by producing organic vegetable simultaneously. So the interest in cultivating these organic crops and food is increasing day by day.
In a recent visit in char area of the Jamuna River under Dhunotupazila of the district, this correspondent found there is a flood of greenery in various crops including sweet potato, sesame, chilli, lentil, Chhola, khesari,kalai, maize, brinjal, linseed and black cumin.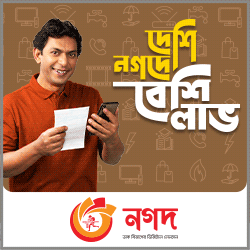 According to the government's Agriculture Information Service website, organic vegetable production is considered by using green manure, compost, organic pest control and mechanical cultivation. Generally, the farmers grow vegetable by applying chemical fertilisers, pesticides, herbicides, hormones, etc but organic farming is quite opposite.
"In the rainy season all the water is uniform but in the summer the land wakes up." said, farmer Aminur Rahman under Dhunotupazila. "Many crops can be obtained by sowing crop seeds in that soil but fertiliser, irrigation is not required." He added.
Farmer Awal Hossain of Baishakhi Char said prospective crops are destroyed whenever the rush of water floods the area. However, if they can pick a crop at home, it is food all year round. One crop of char people goes all year round. Now the season of almonds, lentils, khesari, chillies, sweet potatoes, black cumin, sesame, linseed and maize is going on. The yield has also been plentiful.
All the crops grown in the char area by using organic fertilisers is very tasteful compare to chemical, said consumrerAbdusSattar. The people of the area who live in the town take various things including lentils, khesari, chillies, sweet potatoes, black cumin, sesame, he again said.
Deputy Director of Department of Agricultural Extension (DAE) MdDulal Hossain said farmers of char area grow different sort of vegetable spending trifling money but get huge profit. The consumers purchase this fresh vegetable at a high price, the DD added.