The number of child labourers is increasing abnormally in five upazilas of Lalmonirhat district in recent times. Closure of educational institutions due to pandemic and poverty are the main reasons behind the child labour rise, experts concerned opined.
Monir Hosen (12), son of Abdul Karim of the Fulgach area under Lalmonirhat sadar upazila, is a fifth grader of Fulgach Government Primary School. He just completed his primary education from his nearby school and he was scheduled to get admitted into class six but he could not do that due to pandemic.
He is the youngest kid among seven children of his parents. His father is a day-labourer. His only income is not enough to support his family. So Monir is forced to start work at a welding shop to support his family. When he was talking to this correspondent he expressed his pain. He said Covid has shattered his dream of education.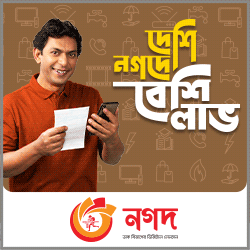 Many other minor boys like him are now engaged in hazardous jobs making their life miserable and unsafe.
Hasan, a ten-year-old boy is also working at a welding shop as his mother was a divorcee. His father married another woman and does not look after them.
Amjad Hosen (14), a student of class nine of Vadai union of Aditmari upazila of the district, is pulling rickshaw as his father cannot maintain his family in this critical situation of pandemic. When talked with this correspondent he expressed his deep sorrow about life and future.
Liton (14) is working at a building as a co- worker. He is a student of class nine of the Teesta river eroded area of Rajpur union under sadar upazila. He said he has no alternative to manage expenses of his family. As the school is closed he is working to earn money to support his family.
Bablu Mia (15), a student of class ten of Sharpukur High School under Aditmari upazila, is also working at a construction site for last 12 months as his father got paralysed after brain stroke, and he and his younger brother are the only earning members of his family, he told this correspondent in choked voice.
When asked the employer of a construction site said it is unethical to engage minor children in hazardous jobs but in pandemic situation teenagers of the rural areas and poor families are being exploited in many ways. They have no school so they are getting involved in various social crimes. Their guardians are very much worried about their children but have nothing to do. Rather they are supporting their families in this crucial time.
Abdur Rob, a cultural activist and also writer, said, "All the educational institutions are closed for nearly 16 months due to pandemic situation. All the students are confined in their homes, they cannot enjoy their life, cannot go to schools for a long time which badly affected the children's mental and physical health. In urban areas, most people are conscious and financially solvent and they are managing their children in many ways but in rural areas many children are forced to do risky jobs in hotels, restaurants, paddy fields, workshops and other places. The number of child labourers increased due to pandemic situation, he added. If this situation continues thousands of children's life will be spoiled."
FF Shofiqul Islam Kanu, Editor of the weekly Lalmonirhat Barta and also a human rights activist, said, "In recent times the number of child labourers increased abnormally due to pandemic situation across the third world countries as well as in our country. It is totally violation of human rights and also a crime to engage minor children in hazardous works."
"But the reality is different in our society. Due to Covid situation many families are passing days in hardship as job opportunities have become limited. So many children of poor families are compelled to work for their survival. The government should stand beside these families," he added.
The primary school students of poor families in rural and river basins areas are the worst victims of Covid pandemic situation.
In some institutions teachers are taking classes through Zoom using smartphone. But most rural students are out of this facility as they are not able to use this smartphone.
Most parents of the rural primary students are poor and they cannot afford to buy smart phone. So their children are passing a very hard time in this pandemic situation.
They cannot provide tutors at home even. So their children are totally detached from books for nearly 15 months. Many of them have already forgotten the lessons.
In city and urban areas guardians are providing home tutors to keep their children active in study but in villages and rural areas most parents can't do it due to poverty or lack of consciousness.
Visiting and talking to some minor children of different areas it is learnt that many primary school-going students are working in hotels, restaurants, shops, and motorcycle garages and also pulling rickshaws.
A teenager pulling rickshaw in Lalmonirhat as educational institutions remain closed — FE Photo