Farmer Nazim Uddin has cultivated capsicum on a commercial basis for the first time at Rupsha upazila in Khulna district. The yield has been good, so has the taste. Numerous farmers and curious people of the area are coming to see the field every day. Someone is coming as a buyer while someone to have a look.
As it is considered a popular vegetable, the demand for capsicum as a delicious food item in the country has been increasing over the last few years.
Nazim Uddin's capsicum garden can be seen in the Kajdia village under TSB union of Rupsha upazila in Khulna. Hundreds of red, yellow, purple and green capsicums are hanging under a specialized shed. Capsicum of various colors is peeking out from the leaves of the green trees in the garden. He is also experimentally cultivating squash on his land.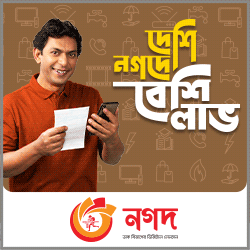 Farmer Nazim Uddin, a resident of Naihati Union in the same upazila, said, "I used to work in a private company. I was fired from my job during the covid pandemics. Then after watching the video from YouTube, I became interested in cultivating this uncommon vegetable capsicum. Then I took 22 decimals of land from TSB Union on lease and started cultivating capsicum on my own initiative with the advice of Upazila Agriculture Office. At first, I planted about two and a half thousand trees on this land. At present, there are about 2,000 trees here.''
He added, "I have spent about 25 thousand taka to make this garden. So far I have sold about 30 kg of capsicum from here. Each tree has been found to hold 8 to 10 fruits. In addition, this tree can bear fruit from 2 months to 6 months. Capsicum plants are more susceptible to infestation so a small amount of pesticide spray has to be applied.
This fruit is very nutritious. There is a big demand for it in the nearby khulna city market. Capsicum is sold at a wholesale price of TK. 180-200 per kg and a retail price of Tk. 250-300. I will sell capsicum for 300 to 400 taka at a cost of 30 to 40 taka per tree.''
Seeing good yields, several young people in my area are already interested in cultivating capsicum. But they are worried about good seeds, many more farmers will come forward if the government provides them with high-yielding improved varieties, also added Nazim Uddin.
Rupsha Upazila Agriculture Officer Md. Fariduzzaman said capsicum is a new and high-value crop in the area. Capsicum is in great demand in the market as it is a vegetable rich in vitamin-A. One can make benefit by cultivating this crop. The Agriculture Office is giving necessary advice for capsicum cultivation. This year, 4,000 capsicum saplings have been distributed among the farmers by the Rupsha Upazila Agriculture Office.
Department of Agricultural Extension (DAE) Deputy Director Md. Hafizur Rahman said that the climate and soil in this region are suitable for capsicum farming. The farmers can get a high yield within a short time at low production costs.