Lemon growers in Tangail district are facing huge losses after their lemon orchards were hit by repeated floods and heavy rainfalls during the current monsoon.
Farmers in six upazilas of the diistrict - namely Delduar, Nagarpur, Mirzapur, Shakhipur, Ghataill and Modhupur- cultivate lemon commercially.
Among them, relatively higher quantity of lemons is produced in Delduar, Mirzapur and Modhupur upazillas, office sources said.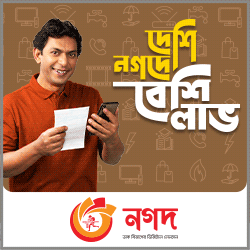 The seedless variety lemons of these areas have a big fame across the country, while a quantity of this variety is also exported abroad.
The Department of Agricultural Extension , Tangail sources said they set a target to cultivate lemon on 2,157 hectares of land during the current season with the production target of 43,000 tonnes.
Lemon orchards on 380 hectares of land were fully damaged in the district by three phases of floods and heavy rainfalls.
During in a recent visit, it was found that Laohati and Fazilhati unions of Delduar upazlia, Mokna, Pakutia and Mmamudnagar unions of Nagarpur upazila, Banail, Antara, Warshi and Jamurki unions of Mirzapur upazila were worst-hit by floods.
A lemon grower named Rafiql Islam (40), son of Hazrat Ali at Kazipur village in Sadar upazila, said due to prolonged stagnation of floodwater in his orchard fifty percent of the plants have already died, inflicting a big loss on him.
Now he is suffering a lot in maintaining his family, he added.
The lemon plants died as floodwater remained stuck in the orchards for a long period of time. The dead plants are now being used as fuel.
Around 500 lemon growers in the district have been affected by the floods, some of them have already lost their capital and so now they urgently need government support for rising orchards again.
Due to colossal damage to lemon farming by the recent floods, supply shortage has caused hike in price of the item.
A lemon wholesaler said before flood price of a sack of lemons was Tk 2,000 only while at present they are buying one sack of lemons at Tk 5,000.
Deputy Director of the DAE, Tangail Ashanul Bashar said they do not have any allocation for the lemon growers.
They have a plan to distributed saplings for the flood-affected lemon growers and they have already sent a proposal to their head office in this regard for getting the approval.