Mofizur Rahman Mafi, a young entrepreneur, has succeeded in cultivating foreign varieties of mangoes commercially in Faridpur.
The world's most expensive mango Miyazaki or sun-egg is also in Mafi's garden. The entrepreneur got success in the first year of his farming.
Apart from sun-eggs, there are mangoes from different countries in Mafi's garden. Notable among them are Kyuzia (Thailand), Red Mango (USA), Chiang Mai (Philippines), Bunaiking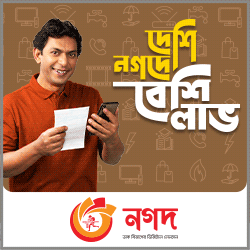 5kg, Apchakapat (Thailand), Bana Mango (Thailand), Bar Masi (Bangladeshi), Katimon Barmasi (Thai), Bari-4 (Bangladeshi). There are 20 to 25 mangoes of different domestic and foreign species.
At present, various species of local and foreign mangoes are hanging on the trees in Mafi's garden. The whole garden has become a sight to behold. Visitors from different parts of the country are coming to the garden to see colourful foreign varieties of mangoes. Many people are also coming to collect mango saplings from him.
There are about one thousand local and foreign mango trees in Mafi's garden. The first year of planting the saplings has been a huge success. Every tree bears mangoes. Colourful mangoes are hanging in bunches.
One visitor said, "I have come to see colourful mangoes in this garden. Those look very beautiful. I have never seen these mangoes before".
Mofizur Rahman Mafi, the young entrepreneur, said there are about 20-25 species of mangoes in his garden. "I have collected mango saplings from outside the country. I got success in the first year. Foreign mangoes are very beautiful and delicious to eat".
The entrepreneur said that instead of selling mangoes in the first year, he would distribute them among relatives and neighbours.
Mafi doesn't cultivate mango only. He has various orchards including Kashmiri apple plum, seedless plum, guava, sour-sweet plum, malta, orange, dragon. He has set up various orchards on about 15 acres of land. This huge garden has created employment for 10-15 poor people.
Deputy Director of the Department of Agriculture Extension Md. Hazrat Ali said Mofizur Rahman is a young entrepreneur. He has received a wide acclaim across the country with mixed orchards. Farmers from different parts of the country are visiting his garden. Many people have set up big farms with saplings collecting from his orchard.