The harvesting of Aman paddy is going on in full swing in the district, and farmers are very happy with good production this year.
This season's bumper yield has been achieved for adequate rainfall, incentives, and a smooth supply of fertiliser, among others.
According to officials of the Department of Agriculture Extension (DAE), Aman paddy was cultivated on 61,470 hectares of land in four upazilas of Magura district, and the rice-production target was 20,000 tonnes, but it has reached 202,851 tonnes.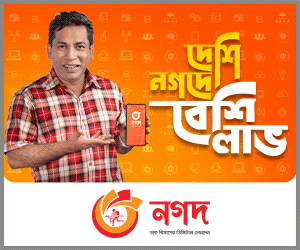 Magura DAE official, Mosharraf Hossain, said, "We have achieved our target. Aman production rate in the district is 3.29 tonnes per hectare."
Around 15 tonnes of rice per bigha has been produced this season.
Shabur Hossen, a farmer of Belnagar village, said that he had brought his two bighas of land under Aman cultivation, and got 30 tonnes of rice. "I was provided with a loan as an incentive at 4-per cent interest. Besides, a smooth supply of fertiliser and adequate rainfall have helped me get this yield," he added.
Belayet Hossen, another farmer from Ashba village, said, "As there was sufficient rainfall, I did not need to spend anything for irrigation." He, however, demanded that the government start purchasing paddy directly from them as soon as possible to ensure a fair price for the growers.
On this, district food controller Hafizur Rahman said, "The growers do not need to be worried since we will start Aman procurement drive in the district from November 15."