The flow of Dhaka-bound people continued rising as the second day of the 'hard lockdown' ended on Saturday in a comparatively relaxed mood.
To join work after Eid holidays, people from different parts of the country reached entry points like Abdullahpur, Aminbazar and Kanchpur amid Covid-19 restrictions.
From there, the returnees reached their respective destinations either on foot or by rickshaws. They faced police checks on their way back but did not face any trouble from security agencies.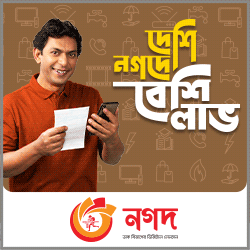 The majority of returnees were private jobholders who had suffered a lot due to the absence of public transports as they were forced to travel either by auto-rickshaws or rickshaws or on foot too.
The FE correspondent saw such a scenario after visiting several places of the city that have already been identified as red zones because of much higher coronavirus infections and fatalities.
A good number of people flouting lockdown rules were seen entering Dhaka on foot through Aminbazar Bridge without facing any police checking or questioning.
Some others were found coming to the city on motorbikes. Few bikes were carrying more than two passengers who were allowed to enter the city.
Traffic policemen at Aminbazar point told the FE that they being members of the traffic force can take actions against vehicles but they have no jurisdiction to take actions against people travelling on foot.
They said the members of the police stations or mobile courts can take action against the Dhaka-bound people.
Seeking anonymity, a police officer at Shah Ali police station said the flow of Dhaka-bound people was comparatively lower than that of the previous day.
"Most of the people who came today (Saturday) are working at pharmaceutical companies and banks. But we cannot take actions against them as they will do emergency duties," he added.
Visiting Demra Sultana Kamal Bridge, one of the important entry and exit points of the capital, the FE correspondents found that many people mainly jobholders (in the private sector) were crossing the bridge on foot to return to the capital.
"I reached here (Demra Bridge) from my village home in Narsingdi by battery-run auto-rickshaw at a cost of Tk 500. And now I will go to my house at Jatrabari on foot as I could not bear the excess fare of rickshaw," Md Samad Bhuiyan, a private service holder, told the FE on the Dhaka side of the bridge.
Another passenger named Masud Parvez who works at a private company told the FE at Jatrabari in the afternoon that he had reached Jatrabari from Sonargaon of Narayanganj by rickshaw and sometimes on foot to avoid police questioning.
He said he had to spend Tk 700 to reach the capital from Sonargaon.
Many returnees suggested that the government should have allowed operation of public transports until yesterday (Saturday) considering the interests of holidaymakers to return to the capital smoothly after celebrating Eid-ul-Azha.
Talking to the FE, an on-duty police official on the western side of Demra Sultana Kamal Bridge check-post said they were allowing goods-laden trucks, ambulances, emergency services vehicles and people mainly jobholders to enter the capital after finding valid reasons.