The inquiry committee, formed to investigate the accident of hitting a pillar of the Padma Bridge by a ferry, held two staffers of the ro-ro ferry responsible.
The committee stated that they could have avoided the accident by crossing the river from upstream with controlling speed.
The responsible ferry staffers are Master (in-charge) Abdur Rahman and quartermaster Mohammad Saiful Islam.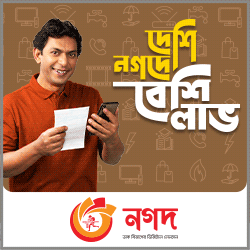 Sources said the committee prepared the report on the accident after reviewing data and information, interviewing people on board including the ro-ro ferry staff and visiting the site in the last three days.
SM Ashiquzzaman, head of the inquiry committee and also director (commercial) of the Bangladesh Inland Water Transport Corporation (BIWTC), handed over the report to BIWTC chairman on Sunday evening.
According to sources, the committee found discrepancies between the confessional statements by the responsible persons and the findings.
The steering system of the ferry, which suddenly turned inoperative as stated by the duo, was later used to reach the destination at Shimulia ghat, the sources said.
The committee also found that the ferry was repaired recently and its wheel system was updated with a new one.
The committee found the ferry lost its control over the wheel and hit the pillar at high speed, as it tried to pass the bridge between the pillars 16 and 17.
The committee in the report also stated that the accident could have been avoided if the ferry speed had been controlled by taking wave of the river and wind speed into account and crossing the bridge from upstream between the pillars 13 and 14.
The ro-ro ferry Shah Jalal hit pillar number 17 of the Padma Bridge while heading towards Shimulia ghat from Madaripur from Banglabazar ghat with three buses, two trucks and 28 small cars at around 9:15 am on Friday.
Due to the accident, the report found the cement layer of the upper part and one side of pile cap of pillar 17 had fallen apart.
But the hit severely damaged the ferry as its various components of the front site dashed inside which cannot be repaired.
The Padma Multipurpose Bridge project office also inspected the site separately on Friday and Saturday and found the damage in the pillar ignorable.
The project office also filed a general diary with the Shariatpur police station and decided to issue letters to all concerned for taking measures for the safety of the country's costly and iconic bridge.
Other members of the inquiry committee are Director M Shahjahan, AGM (Marine) Ahmed Ali and AGM (Engineering) Rubeluzzaman.