Bangladesh switches fast to digital financial transactions
JASIM UDDIN HAROON | Sunday, 24 October 2021
---
Bangladesh is switching over fast to digital financial transactions from the conventional banking system, marking a phenomenal growth of 85 per cent in a segment last August.
Officials said the digital financial transactions in the country had shown a robust growth during the past one year to August, replacing the conventional banking transactions faster than expected of the banking industry.
The transactions processed through Bangladesh Bank's large-value payments segment, known as Real Time Gross Settlement (RTGS), recorded a growth of 85 per cent by the number of transactions in August over the same period a year before.
Internet transactions grew 59 per cent to Tk 108.25 billion in August 2021, according to central bank statistics. The number of internet bank users increased by 31 per cent to 3.8 million in the month.
Bangladesh Electronic Funds Transfer Network (BEFTN ) transactions surged 23 per cent by the number of transactions. By volume the dealings spiked by 68 per cent during the period under review.
Transaction by cards (local and foreign) increased by 53.5 per cent by number and 36.4 per cent by volume, the central bank statistics showed.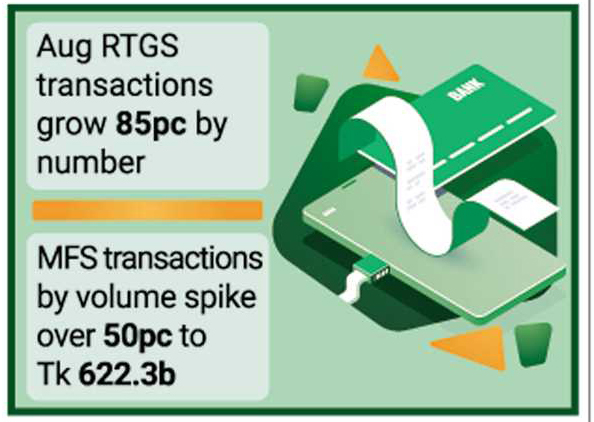 Mobile Financial Service or MFS all transactions by volume also swelled over 50 per cent to Tk 622.3 billion in August. All transaction means cash-in, cash-out and salary payments etc. But its accounts registered both in urban and rural areas by more than 11 per cent.
Bankers say this growth was achieved on the back of coronavirus pandemic that forced the clients to stay home, and prompted quick digitization of economic activities, notably supply chains and financial devices as well medical services.
Many banks also offered app-based banking alongside other entities offering innovative payment solutions for accepting digital transactions.
Syed Mahbubur Rahman, managing director and CEO at the privately-owned Mutual Trust Bank (MTB), told the FE that this is much faster than the expectation and obviously because of the Covid-19 pandemic.
He said clients were forced to stay away from the bank premises.
"We even advised customers to avoid transactions in person in the banks," Mr Rahman said.
He said many banks have introduced new and innovative solutions for customers so that they can transact sitting or staying at homes, as the invasive virus upended normal order worldwide
Mr Rahman said: "We also launched an app-based solution named smart banking. Clients do everything by this smart banking tool." Clients buy gifts by this solution.
Bangladesh Bank did shut one mechanism of the digital settlement systems named RTGS (real-time gross settlements) in April, at a time when the economy almost halted.
Shamsuddin Haider Dalim, head of corporate communications at bKash, a popular MFS in Bangladesh, said that the Covid situation forced many to go onto digital platforms.
He said the remittance inflow, talktime purchase, utility bill payments were the transactions in the MFS.
"This rising trend would increase further in the days to come," he noted.
Like in many developed and developing countries, the Internet in Bangladesh has witnessed significant growth in recent years facing many constraints in expanding access and use.
The total number of internet subscribers reached 125.46 million at the end of August 2021. Mobile internet users stood at 115.41 million while ISP plus PSTN at 10.05 million.
In February 2018, Bangladesh started the 4G network services to add up speeds and dimensions to the information superhighway facilitating activity in the fastest-growing sector of economy and lifestyle.