China to devise Highway Network Plan
20 experts coming for onsite investigation
---
MIR MOSTAFIZUR RAHAMAN | Sunday, 15 May 2022
---
China has formally agreed to implement a project on planning Bangladesh's highway network with new looks and sent in the draft agreement for approval, sources in Dhaka said.
The Bangladesh Highway Network Plan will be based on the demands of Bangladesh side, the current national development status and existing related master plans, officials in the ministry concerned told the FE.
The master plan also includes a list of major river-crossing bridges connecting the long-haul roadways.
China has picked Henan Communications Planning and Design Institute Co Limited to implement the planning project for which China is providing 7.2 million RMB (BDT 93 million).
Beijing will send 20 experts to Bangladesh to carry out onsite investigation, surveys and researches needed for the preparation of the project.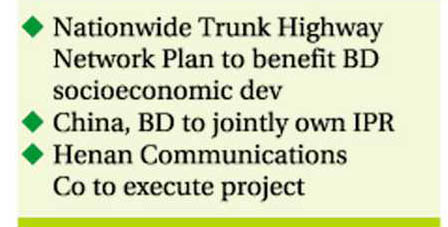 "The project is expected to be completed within nine months of its commencement," says one official.
The Chinese implementation company will build a field team of technical experts and a domestic management team for the project.
"Within one month of the signing of the agreement, Bangladesh side will provide basic data and resources for the implementation of the project," the draft of the agreement reads.
According to the draft, China and Bangladesh will jontly own the intellectual property rights (IPR) of the outcome.
By analysing current highway- network problems, studying recent years' basic data of socioeconomic development, urban expansion, traffic growth and demographic distribution the project will formulate a nationwide Trunk Highway Network Plan to benefit Bangladesh's socioeconomic development, the project proposal says.
The plan will also consist of industrial layouts, transportation volume, urban-expansion patterns, study of an adequate scale of the Trunk Highway Network to meet with the national development demands.
After approving the project China has sent a draft implementation agreement and requested Bangladesh to give its confirmation after studying the clauses of the agreement, sources said.
The Bangladesh side is required to go through the approval for the Technical Assistance Project Proposal (TAPP) as early as possible, says a communiqué from China.
After the signing of the agreement and the approval for the TPP, a Chinese expert team will arrive in Bangladesh to start to implement the project.
The project was proposed by Dhaka in line with the Economic and Technical Cooperation Agreement signed by China and Bangladesh in April 2016.
Bangladesh's existing highway master plan expired last year, said officials of the Roads and Highways Division, necessitating an update on the road-communications front where much remains to be done to suit present-day needs.