FY23 budget: Tk 23.53b more to feather-bed rail
FHM HUMAYAN KABIR | Sunday, 15 May 2022
---
Despite its poor-performer image, the state rail service is going to get Tk 149.28 billion, which is up by Tk 23.53 billion, in the upcoming uplift budget, officials said on Saturday.
The Bangladesh Railway (BR) shows its weak capacity, especially in project implementation of more than a dozen Indian line of credit-aided projects over the years.
A senior planning-commission (PC) official says the government may supply Tk 149.28 billion to the BR in the annual development programme (ADP) of the next fiscal year (FY), 2022-23.
In FY22, the government allocates Tk 125.75 billion outlay in the revised ADP to execute some 34 projects.
The government is likely to finalise the ADP for FY23 next Tuesday as the commission has already drafted the development programme.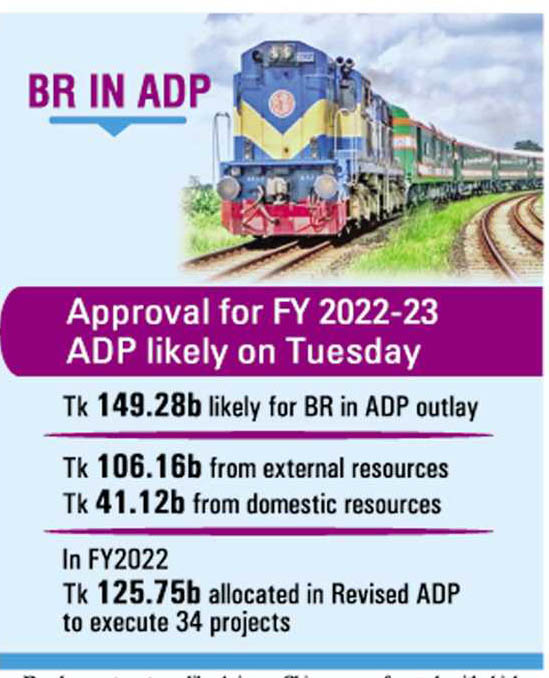 The PC official says, "Although the BR has demanded higher funds in the development budget, we're allocating a bit lower funds considering its expenditure capacity."
The BR is likely to receive a gigantic Tk 106.16 billion from external resources as project aid (PA) and Tk 41.12 billion from internal resources.
Development partners like Asian Development Bank, India and China came forward with higher assistance for the BR to improve its passenger services.
In the last 12 years, the government has invested higher to revive countrywide railway communications reducing massive dependency on road communications to transport goods, freight and passengers.
A senior BR official says they still lack locomotives and passenger carriages in their fleet against the growing demand for rail service.
Passengers claim they do not get tickets in time and on many occasions trains miss trip schedules.
Industrialists and businessmen also decry as say they do not get better rail services and facilities for transporting goods.
Another PC official says they have been allocating massively for the BR over the decades as it demands higher funds for executing nearly 30 projects.
The BR has failed to complete the Indian LoC-supported Tk 42.61-billion project to install track between Khulna-Mongla port in 12 years even after time and cost overrun for more than three occasions.
It has also failed to complete the Tk 11.06-billion 'Installation of Dhaka-Tongi 3rd and 4th dual-gauge line and Tongi-Joydevpur section dual-gauge double line project' in 12 years. The project has already been revised once.