Stocks extended the winning streak for a second straight week that ended on Thursday, with smart investors putting fresh bets on heavyweight banking shares amid positive expectations.
Of the five trading days during the week, the first session closed lower while the last four sessions saw gains.
Week on week, the benchmark DSEX index of the Dhaka Stock Exchange (DSE), went up by 95.89 points or 1.37 per cent to settle the week at 7,091. The DSEX added more than 185 points in the past two consecutive weeks.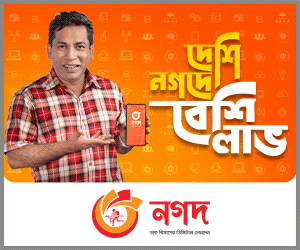 Market analysts said enthusiastic investors showed their buying appetite for heavyweight banking stocks as prices of many banking shares are still at a lucrative level.
"Investors' buying interest in the banking stocks ahead of the year-end declaration added strength to the market momentum," said a merchant banker.
The banking sector also generated the highest return, gaining 8.40 per cent, as share prices of all 32 listed banks ended higher, led by BRAC Bank which gained 20.12 per cent alone.
The investors mostly focused on the banking sector, capturing 25 per cent of the week's total turnover with three banks making it to the week's top 10 turnover list.
"Investors are quite optimistic about the market, so they are showing their buying interest in lucrative stocks," according to a stockbroker.
Investors hope that the market would rise further as institutional investors are pouring money into stocks following a change in the margin loan system, he said.
The Bangladesh Securities and Exchange Commission (BSEC) last week scrapped the index-based margin loan system.
Instead, stockbrokers and merchant bankers may extend credit facilities at 1:0.8 to their approved clients for any individual stock having price earnings (P/E) ratio up to 40, according to the latest order of the BSEC.
According to an analysis by EBL Securities, investors showed buying interest in December-ending stocks such as banking, non-bank financial institutions and insurance sectors which rallied the market forward.
Two other market indices also ended higher. The DS30 index, comprising blue chips, gained 13.98 points to finish at 2,695 and the DSE Shariah Index (DSES) advanced 2.75 points to close at 1,480.
Market capitalisation of the DSE also rose by 0.83 per cent over the week before to Tk 5,610 billion on Thursday.
The week's total turnover stood at Tk 69.92 billion on the prime bourse against Tk 58.98 billion in the week before.
The daily turnover averaged out at Tk 13.98 billion on the country's premier bourse, which was 18.50 per cent higher than the previous week's average of Tk 11.79 billion.
Losers, however, took a modest lead over the gainers, as out of 378 issues traded, 191 closed lower, 173 higher and 16 remained unchanged on the DSE trading floor.
Among other sectors, life insurance gained 3.18 per cent, followed by non-bank financial institutions (2.70 per cent), food (1.95 per cent) and general insurance (1.59 per cent).
On the other hand, miscellaneous, power, pharma, engineering and telecom sectors lost 3.18 per cent, 2.22 per cent, 1.80 per cent, 0.97 per cent and 0.68 per cent respectively.
Beximco, which lost 5.46 per cent, topped the turnover chart with shares worth Tk 7.64 billion changing hands, followed by IFIC Bank (Tk 4.41 billion), BRAC Bank (Tk 2.93 billion), Orion Pharma (Tk 2.45 billion) and NRB Commercial Bank (Tk 2.24 billion).
The newly listed Sena Kalyan Insurance was the top gainer, posting a 60 per cent gain, followed by Orion Infusion, BRAC Bank, Prime Finance First Mutual Fund and ONE Bank.
National Feed Mills was the worst loser, shedding 19.33 per cent, followed by Premier Cement, Saiham Cotton Mills, BD Thai Aluminium and Pacific Denims.
The Chittagong Stock Exchange (CSE) also ended higher, with the CSE All Share Price Index (CASPI), soaring 226 points to settle at 20,723 and the Selective Categories Index (CSCX), gaining 142 points to close at 12,459.
Of the issues traded, 176 declined, 146 advanced and 14 remained unchanged on the CSE trading floor.
The port city's bourse traded 79.89 million shares and mutual fund units with turnover value of Tk 2.52 billion.