The City Bank Limited has decided to raise Tk 7.0 billion through issuance of subordinated bond to strengthen its capital base and support continuous business growth.
The board of directors of the bank has decided to issue the bond at a meeting held on July 19 through digital platform, among others, according to an official disclosure.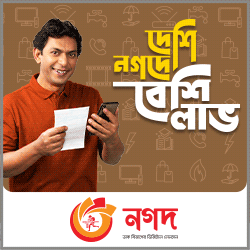 The City Bank will issue the bond for raising fund to meet capital requirements under Basel-III to support the bank's business growth.
The issuance of bond is subject to approval from the concerned authorities -- Bangladesh Securities and Exchange Commission (BSEC), Bangladesh Bank (BB)-- and complying with other regulatory requirements, the disclosure added.
Each share of the bank, which was listed on the Dhaka Stock Exchange in 1986, closed at Tk 27.10 on Monday, the last trading day before Eid holidays.
Its shares traded between Tk 16.20 and Tk 33.60 in the last one year.
The bank witnessed an impressive 290 per cent increase in its second quarter (Q2) earnings for April-June, 2021 compared to the same quarter of the previous year.
Its consolidated earnings per share (EPS) stood at Tk 1.13 for April-June, 2021, up by a whopping 290 per cent, from Tk 0.29 in the corresponding period.
The bank's consolidated EPS for six months that ended on June 30, 2021 stood at Tk 2.06 as against Tk 1.00 for the same period of the previous year.
The bank disbursed 17.50 per cent cash and 5.0 per cent stock dividend for the year ended on December 31, 2020. In 2019, the bank provided a 15 per cent cash dividend.
Paid-up capital of the bank is Tk 10.67 billion and its authorised capital is Tk 15 billion while total number of securities is 1.06 billion, according to the data available with the DSE.
The sponsor-directors own 32.88 per cent stake in the bank while institutional investors own 23.64 per cent, foreign investors 3.06 per cent and the general public 40.42 per cent as of May 31, 2021.