The Dhaka Stock Exchange's market capitalisation has lost about Tk 307 billion in the past eight months as investors sold large-cap stocks.
During the period, DSEX, the prime index of the DSE witnessed a fall of 673 points or 10.75 per cent.
The DSEX started the year at 6,244 points and closed at 5,571 points on Monday, the last trading day before Eid-ul-Azha vacation.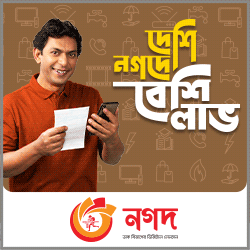 Market operators said foreign and local investors booked profits while most of the retail investors were on selling mood instead of taking fresh position.
They said the pessimism, coupled with disappointing quarterly earnings results, particularly banks in the first quarter, dented the investors' confidence.
Accordingly, the heavyweight banking sector lost more than 28 per cent and lost Tk 207.30 billion in market capitalisation alone in the current year, according to the statistics from IDLC Securities.
However, the banking sector started to attract investors as they find an alternative to low-cap stocks and junks, which are facing a new regulatory squeeze because of abnormal price hikes.
The banking sector posted a 4.73 per cent gain last week as share prices of 28 banks closed higher, out of 30 listed banks.
-babul/rmc