Funds raised by listed companies through issuance of rights shares remained low as only one company raised fund through rights issuance in the outgoing calendar year.
Insufficient documents, strict conditions on rights issue rules and the securities regulator's conservative approach in giving approval were main factors behind the low fund collection through rights issuance, market insiders said.
Only one company -- National Polymer Industries - raised Tk 547.38 million by issuing more than 36.49 million rights shares of Tk 15 each, including Tk 5.0 as a premium per share, according to statistics available with the Dhaka Stock Exchange (DSE).
The company issued one rights share for existing one share (1R:1) to support the business growth (land purchase and land development, import of capital machinery), finance the increased working capital needed along with repayment of bank loans.
The Bangladesh Securities and Exchange Commission (BSEC) approved the company's application to raise the said amount through rights offer on December 15, 2020.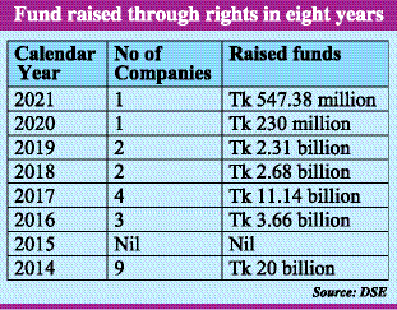 The National Polymer's rights shares subscription was held between January 24 and February 8, 2021.
The company is engaged in producing diversified products like uPVC, PP-R, CPVC pipes and fittings, PVC doors, Sheet, Ceiling also plastic household and furniture products.
A rights offer refers to the issue of additional shares by a listed company to raise capital from existing shareholders.
With a rights issue, existing shareholders get the privilege to buy a specified number of new shares from the firm at a particular price within a specified timeframe.
The companies intended to issue rights shares to either strengthen their capital structure or use funds for business expansion and loan repayment.
However, the BSEC did not allow any listed company to raise funds through rights offers in 2021 as it followed a go-slow policy in giving approvals.
Insufficient documents for regulatory approval were the other factors behind the stock market regulator's stance.
Meanwhile, the securities regulator refused approval for AB Bank's right share offer again in October last.
"The stock market regulator has expressed its inability to approve the rights issue of AB Bank, considering dividend payment history and present financial position," according to BSEC.
Earlier, the bank applied for issuance of rights shares at a ratio of 1R:6 (one right share for existing six shares held) at an issue price of Tk 10 each ended on December 31, 2020.
AB Bank disbursed 5.0 per cent stock dividends for the two consecutive years - 2020 and 2019. However, the bank declared 'no' dividends in 2018 and 2017.
In June 2020, the BSEC also refused approval for AB Bank's rights offer applied in 2017. Then the bank proposed rights issue 3:2R (2 rights shares against existing 3 shares) with a face value of Tk 10 each.
But the BSEC refused approval as the bank did not submit any updated documents about the right share issue.
A BSEC top official said the commission will not allow anything that hurts general investors' interest.
In 2020, one listed firm -- Pragati Life Insurance -- netted Tk 230.27 million by issuing more than 15.35 million rights shares of Tk 15 each, including Tk 5.0 as a premium, the DSE data showed.
In 2019, two listed firms -raised Tk 2.31 billion through rights shares, in 2018 -- two companies raised Tk 2.68 billion, in 2017 -- four firms raised Tk 11.14 billion, in 2016 - three companies raised Tk 3.66 billion and in 2014 nine companies raised Tk 20 billion through rights shares.