The general insurance sector was the best performer on the Dhaka Stock Exchange (DSE) in the first half (H1) of 2021 with 43 per cent return while the jute sector was the worst loser plunging by 30.60 per cent.
The general insurance sector achieved the highest return as stock prices of almost all the general insurers were more than doubled over the past six months riding on speculation.
Most of these companies logged higher profits amid the ongoing Covid-19 pandemic, but the sharp rise in the stock price is disproportionate to their profit growth, said a merchant banker.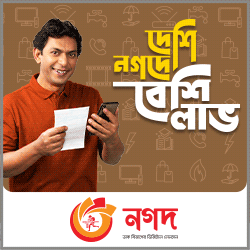 "Investors are blindly rushing towards insurance stocks without conducting a proper analysis when they see the rise in values," he said.
There has not been any big news for the insurance sector that could have led to such a sharp spike in stock prices compared to profits.
There were some reasons for the rise of the insurance stocks. But the pace of the increase was abnormal, said a leading broker.
"Since the government is saying that everyone will be brought under insurance coverage, it positively impacts the sector. The decision to fix the commission for agents at 15 per cent also boosted insurers' profits," he said.
Miscellaneous sector, which comprises of 14 companies, generated 36.80 per cent return led by sector heavyweight Bangladesh Export Import Company (Beximco), which posted a 62 per cent gain in January-June, 2021.
Cement sector achieved 33.7 per cent return during the period under review thanks to strong demand for the key construction material despite pandemic.
The construction company stocks may see further return because of resumption of government lead projects and development activities, according to EBL Securities.
The textile sector also posted a 31.10 per cent return asthe investors showed immense interest in the textile stocks riding on higher earnings hope of apparel exports as the US and the EU economies rebounded with mass vaccinations.
Engineering sector posted a 20.2 per cent return riding on the giant Walton Hi-Tech Industries which gained more than 17 per cent in January-June, 2021.
Walton which made trading debut on September 23, 2020, emerged as the second largest listed company of the country next to Grameenphone only.
The home-grown leading electronics and home appliance manufacturer's market-cap stood at Tk 402.44 billion as of Thursday.
The banking sectors generated a 19 per cent return as investors showed appetite on bank stocks amid earnings surprises despite pandemic.
The heavyweight telecommunication sector saw a 12 per cent gain in January-June, 2021, riding on largest IPO Robi Axiata, which soared 50 per cent during the period under review.
Among others, food & allied registered 27.8 per cent gain, followed by IT with 22 per cent, tannery 12.60 per cent, services & real estate 11.30 per cent, financial institutions 11.20 per cent, mutual fund 10.20 per cent, ceramics 9.60 per cent, power 8.20 per cent and pharmaceuticals sector 4.60 per cent.
Only three sectors-jute, travel & leisure and paper & printing saw negative return, losing 30.60 per cent, 17.50 per cent and 3.0 per cent respectively.
Despite challenges for the financial sector, banking and non-banking sector with good corporate governance, quality assets portfolio and control over nonperforming loan possibly will surpass peer performers.
Kattali Textile was the stock-wise top gainer, posting a 184 per cent return, followed by Provati Insurance with 164 per cent, Emerald Oil Industries 162 per cent, Aramit Cement 152 per cent and Salvo Chemicals 135 per cent, according to EBL Securities.
The country's capital market showed a hefty performance in the first half (H1) of 2021 as the key index of the DSE soared 748 points or 14 per cent to reach at 42-month high.
The market momentum exerted that bullish trend to be prevalent on bourses and 2021 will be a year of opportunities for the capital market, said the stockbroker.