Shahjalal Islami Bank Ltd has decided to issue 'SJIBL 3rd Mudaraba Subordinated Bond' of Tk 5.0 billion to strengthen the capital base of the bank.
The board of the bank has taken the decision to issue bonds to raise the Tier-II Capital of the lender as per requirement under Basel III through private placement.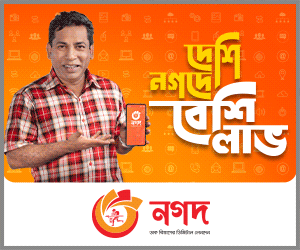 The tenure of the bond is seven years, said an official disclosure on Sunday posted on the Dhaka Stock Exchange website.
The issuing of bonds is subject to the approval of the regulatory authorities — Bangladesh Bank (BB) and Bangladesh Securities and Exchange Commission (BSEC) and compliance of all formalities in this respect, the disclosure said.
Each share of the bank, which was listed on the Dhaka Stock Exchange (DSE) in 2007, closed at Tk 20.10 on Sunday, losing 0.98 per cent over the previous day.
In the last one year, its shares traded between Tk 19.60 and Tk 23.70 each.
The bank's consolidated earnings per share (EPS) stood at Tk 0.98 for January-March 2022 as against Tk 0.62 for January-March 2021.
The bank declared 10 per cent cash and 5.0 per cent stock dividend for the year ended on December 31, 2021.
In 2020, the bank disbursed 7.0 per cent cash and 5.0 per cent stock dividend.
The bank's paid-up capital is Tk 10.80 billion, authorised capital is Tk 15 billion and the total number of securities is 1.08 billion.
The sponsor-directors own 48.22 per cent stake in the bank, while institutions own 14.60 per cent, foreign investors 0.15 per cent and the general public 37.03 per cent as of March 31, 2022, the DSE data shows.