Stocks extended their winning streak for the four straight sessions on Monday, the last trading session before five-day Eid-ul-Azha vacation.
Trading and official activities on both bourses will remain closed from August 21 to August 25 on the occasion of Eid-ul-Azha, including weekly holidays.
The market started with downward note and the slow movement continued till mid-session. But, rest of the session went up sharply. Finally, DSEX added more than more than 32 points.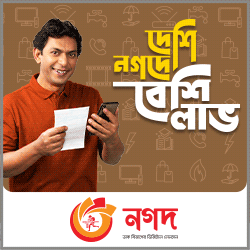 DSEX, the prime index of the Dhaka Stock Exchange (DSE), went up by 32.69 points or 0.59 per cent to settle at 5,571.
The two other indices also ended higher. The DS30 index, comprising blue chips advanced 9.78 points to end at 1948 and the DSE Shariah Index gained 7.06 points to close at 1,257.
Turnover, another important indicator of the market, however, fell to Tk 4.45 billion, which was 21 per cent lower than the previous day's Tk 5.60 billion.
It was also the lowest turnover in 10 weeks since June 10 when turnover was recorded Tk 4.08 billion.
Of the 335 issues traded on the DSE trading floor, 198 ended higher, 97 closed lower and 40 issues remained unchanged on the DSE trading floor.
A total number of 103,784 trades were executed in the day's trading session with trading volume of 154.97 million securities.
The market capitalisation of the DSE stood at Tk 3,921 billion on the day which was Tk 3,898 billion in the previous session.
LankaBangla Finance topped the turnover chart with 6.23 million shares worth Tk 184 million changing hands, closely followed by BBS Cables, City Bank, National Housing Finance and Dhaka Bank.
Midas Financing was the day's best performer on the premier bourse, posting a gain of 10 per cent while Aziz Pipes was the worst performer, losing 9.98 per cent.
The port city bourse CSE also finished higher with its CSE All Share Price Index – CASPI – gaining 106 points to settle at 17,111 and the Selective Categories Index - CSCX – advancing 64 points to finish at 10,362.
The gainers beat losers as 149 issues closed higher, 67 ended lower, with 19 issues remained unchanged on the CSE.
The port city bourse traded 12.93 million shares and mutual fund units worth nearly Tk 284 million in turnover.