Share trading through the Dhaka Stock Exchange (DSE) mobile app is on the rise as the number of active users of the application exceeded the 34,000-mark recently.
The app's features include market and trading statistics in real time, company information, portfolio information and company news.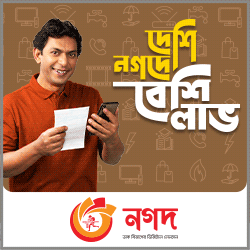 The number of active users of the DSE mobile application increased to 34,080 as of August 20 last from nearly 24,000 as of January 1, 2018.
During the last eight months, the DSE got 10,217 more mobile app users.
According to the DSE, the investors using the DSE mobile app placed more than 4.2 million orders in fiscal year (FY) 2017-18.
Of those orders, more than 2.7 million were executed.
A DSE official said in July last the mobile app accounted for around 4.0 per cent of the turnover against 3.0 per cent in July last year.
The DSE launched the mobile app-based share trading on March 9, 2016.
The app is available on the Google Play Store and offers features like helping the users track the indices and get market and company information.
According to a DSE official, the prime bourse is trying to make it easy for investors through the best use of technology as the latter's interest in the mobile app is gaining momentum.
Market experts, however, said the number of users of the app was insignificant compared with the number of beneficiary owners' accounts.
According to the Central Depository Bangladesh Limited (CDBL), which preserves electronic data of all individual and institutional investors, the total number of active BO accounts was 2,648,753 as of Monday, the last trading day before the Eid-ul-Azha vacation.
The existing transaction system does not provide instant account-related information without making any call to a trader. The DSE mobile app gives that comfort to the investors, he said.
Considering this fact, the bourse sounded optimistic that the app would be more popular gradually, he said.
An Android phone 4.4-version with a four-inch display and 320 pixel camera resolution is the minimum requirement for using the DSE mobile app.
The application allows users to place orders directly to the bourse's server but traders and brokers are allowed to interrupt, if any unusual order is placed.