Bangladesh Railway (BR) has proposed starting the regular cross-border freight service between Bangladesh and India through Chilahati-Haldibari corridor from August 1, seven months after the inauguration of the service.
The Bangladesh side made the proposal during a meeting with the Indian Railway through a video conference on July 13, said officials.
But the date will be finalised after getting a response from the Indian side, they added.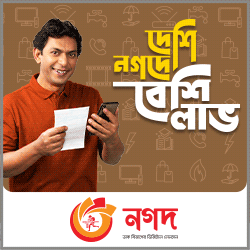 "We expect to get the final date after the Eid holidays," said a BR official, who preferred to be anonymous.
He said the Chilahati-Haldibari corridor would be helpful to transport stones, rice, wheat, etc.
The railway link connecting Bangladesh and India through Chilahati and Haldibari was inaugurated by prime ministers of the two countries through a video conference on December 17, after a long 55 years of suspension.
Though the corridor was reopened aiming to promote trade and people-to-people connectivity between the two countries, both sides refrained from opening the passenger service due to the Covid-19 situation and a lack of required infrastructures.
The broad gauge railway link between Chilahati of Bangladesh and Haldibari of Cooch Behar had been defunct since 1965 following a war between India and erstwhile East Pakistan.
BR officials said the freight, whatever the Indian side would propose, would be carried through wagons till the western side station of the Bangabandhu Jamuna Bridge, as the country's road-cum-rail bridge has a load limit.
The BR has been using the country's land borders having rail links to continue cross-border trade on a limited scale.
During inauguration of Chilahati-Haldibari railway link, goods were carried in 32 wagons to make the historical moment memorable.
With the inauguration, the total number of rail links established between the two neighbouring countries is five.
Others now in operation are: Benapole-Petrapole, Darshana-Gede, Rohanpur-Singhabad, Birol-Radhikapur.
A total of seven rail services were in operation between Bangladesh and India before 1965.