Sales in the city's shopping malls and fashion houses are gradually getting momentum ahead of the Eid-ul-Fitr, the largest religious festival of the Muslims.
People usually buy new outfits and fashion accessories to celebrate the festival. So, shop owners have put on display various types of attractive wears and accessories for fashion-lovers.
"We're displaying new collections in our outlets, highlighting shoppers' choices," said Jamal Hossain in Anarkoli Super Market at Malibag in the city.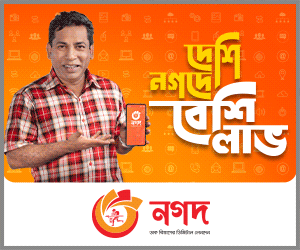 Jamal has put on display different-priced products with various colours and designs. He is selling both imported and locally-made salwar kameez at Tk 1,500 to Tk 4,000 each, and saree at Tk 1,000 to Tk 6,500 each.
"Sales have picked up notably and will increase further from next week," he added.
Rumana Akhter, a housewife, said she visited different outlets to see clothes of various designs, qualities and prices.
"I could not shop properly during Eid in the last two years because of Covid-19 restrictions."
She added that she wanted to avoid extreme gathering, and so, came early to buy necessary things.
Fashion-loving people were also visiting different beauty product and imitation jewellery outlets at Mouchak and Anarkoli Super Market in the capital on Friday.
Shawpna Akhter, a student from Rampura area, said she liked imitation jewellery to get an attractive look on the Eid day.
"I've bought some of my desired items, and will collect rest of the accessories by next week," she added.
Shoppers also thronged different makeshift shops and holiday market places.
Jharna Begum came to the holiday market in front of Motijheel Ideal School and College. She was seen bargaining with a trader, who was selling unstitched salwar kameez.
Jharna said she would purchase five sets of salwar kameez to send to her near and dear ones at village home as gifts.
"So, I've come here to get desired dresses at budget-friendly rates," she noted.
Fashion houses at Bailey road in the city have put on display ladies and gents wears of exclusive designs. They have also kept in their collections a wide range of cotton wears, considering the summer season.
They have used screen and block prints, hand stitch, and embroideries on dresses to bring traditional but unique look.