Experts at a webinar on Monday stressed the need for addressing the policy gaps in trade in digital services immediately aiming to reap the benefits of the rapid expansion of digital trade globally.
All related policies should be revised and updated in line with global developments, they said, adding that the policymakers may strengthen monitoring mechanisms in order to avoid any malpractices in such process.
Some action plans are required to remove the challenges and impediments in this sector, they said while speaking at a virtual dialogue on 'Trade in Services in the Digital Age' organised by Centre for Policy Dialogue(CPD) and Friedrich-Ebert-Stiftung (FES) Bangladesh Office.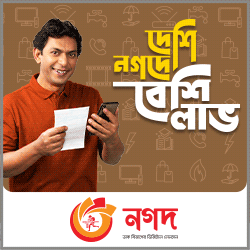 The dialogue was held as part of the project titled 'Future of Work in Bangladesh' which is being implemented by CPD with support from FES Bangladesh.
MD Kamruzzaman, former senior research associate of CPD, made the keynote presentation at the dialogue.
Sharing the key findings of the study, he mentioned that innovative technology is seeping into mechanisms of the economic sectors worldwide.
Professional services are expected to be heavily disrupted by artificial intelligence (AI), data analytics, machine learning and digital platforms. Bangladesh's exports have been heavily concentrated in the textiles and garments sector, he said.
Strategic development and promotion of services trade are among the key approaches needed for Bangladesh to break into new markets, he said, adding that eliminating barriers to trade in services is vital to ensure market openness in the digital age.
Dr Fahmida Khatun, Executive Director of CPD, moderated the session.
In her opening remarks, Dr Fahmida said in order to reap the benefits of the 4IR, the expanding cross-border tradability of services is opening new opportunities for national economies and individuals.
Felix Kolbitz, Resident Representative, FES Bangladesh, delivered introductory remarks at the dialogue.
He said CPD in collaboration with FES Bangladesh is conducting a study on "Digital Trade in Services in Bangladesh: How can Bangladesh seize opportunities?"
The study shows how Bangladesh can take advantage of the fast-evolving digital trade in services and what it will take for Bangladesh to adapt to the new trade regime in the digital age.
Dr Ratnakar Adhikari, Executive Director, Enhanced Integrated Framework (EIF), World Trade Organization (WTO), highlighted the issue of inclusivity in digital trade due to the accessibility, affordability and application challenges.
He also highlighted the fact that digital services are not sufficiently inclusive.
Dr Selim Raihan, Professor, Department of Economics, University of Dhaka and Executive Director, SANEM, questioned the regulatory framework in Bangladesh for digital trade and highlighted how exploitation of loopholes in the regulations by existing businesses leads to sufferings for both the customers and new businesses.
Technological development has led to a fall in labour's share of national income, he added.
Dr Rashmi Banga, Senior Economic Affairs Officer, United Nations Conference on Trade and Development (UNCTAD), suggested formulating a comprehensive national digital transformation policy and highlighted the importance of building a data infrastructure.
Md Mahbub Ur Rahman, Chief Executive Officer, The Hongkong and Shanghai Banking Corporation Limited Bangladesh, shed light on how the COVID-19 pandemic has accelerated the digital revolution.
Mr Rahman stated that the opportunities in digital trade are growing and national understanding is required on what technological advancements are needed to grasp these opportunities.
Syed Almas Kabir, President, Bangladesh Association of Software and Information Services (BASIS), urged the government to introduce incentives for digital transactions.
The government should invest in this sector to encourage digital payments for next three to five years, he said.
Focusing on the issues of data privacy and security, Mr Kabir also called for building mass awareness among the people about digital platform usages.
Sharing the growing digital trade scenario in Bangladesh, Md. Mezbaul Haque, General Manager, Payment Systems Department, Bangladesh Bank, stated that the E-commerce sector of Bangladesh is dominated by F-commerce.
"Such businesses are not under the formal banking system, causing a major barrier to digital payments." The central bank is working on interoperability system for Mobile Financial Services, he added.
Dr Dushni Weerakoon, Executive Director, Institute of Policy Studies of Sri Lanka (IPS), spoke of the surge in online activities due to the pandemic. She pointed out how there is a clear gender disparity in accessing ICT facilities and developing competence in this regard.
Dr Puspa Sharma, Executive Director, South Asia Watch on Trade, Economics and Environment (SAWTEE) and Dr Priyadarshi Dash, Associate Professor, Managing Editor, G20 Digest, Co-Editor, Journal of Asian Economic Integration, Research and Information System for Developing Countries (RIS) also spoke at the event.
Dr Dash shed light on some prospects to compare the scenario between India and Bangladesh.
He said the government of India has liberalized its foreign direct investment policy significantly over the years. He recommended that South Asian countries need to build a skill-set which will allow them to remain competitive.
Researcher Dr Wasel Bin Shadat emphasised the need of a national digital competency framework.
Professor Mustafizur Rahman, Distinguished Fellow of CPD, stressed the need for getting engaged in global discourse since it is also about competing in the domestic market with foreign goods.
"We should have a comprehensive trade and industrial policy that reflect all the important issues regarding digital services and e-commerce."