The restaurant and fast food industry in Dhaka city is in dire straits following closure of eateries amid a state directive to prevent the spread of coronavirus.
Most outlets here were shut since the government announcement of general holidays from March 26 that will initially last on April 11 to combat COVID-19.
Industry insiders said they understand the situation, but there are reasons to believe that many small businesses will not be able to revive the pandemic losses without government assistance.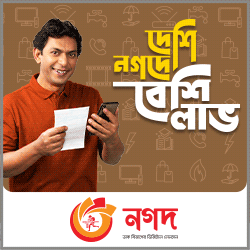 Majority of the city-dwellers have been practising social distancing guidelines by staying at home and avoiding going outdoors excepting emergency needs.
Besides, closure of all educational institutions and offices, teleworking for many organisations and panic among people have drastically cut demand for ready food from restaurants and fast food shops.
According to Bangladesh Restaurant Owners Association (BROA), nearly 7,000 restaurants and other food shops in Dhaka. Of them, at least 95 per cent are currently closed due to coronavirus.
The FE found a deserted look of the once buzzing hangouts in Gulshan, Banani, Hatirjheel, Khilgaon and Bailey Road zones.
However, only a few chain eateries and two online food delivery platforms are in operation on a limited scale, offering only takeaway and home delivery services.
BROA secretary general Rezaul Karim Sarkar Robin said the domestic restaurant and hospitality industry has been through one of the most difficult times.
The industry had suffered for months during political turmoil in 2013 and 2014 which was a manmade menace and "we blamed politicians for that," he told the FE.
"But whom can we blame now? Coronavirus is affecting the entire world and we don't know exactly when we will get rid of the disease."
Most restaurants operate as small businesses and it would be hard for many to pay rent for space, wages and utility charges if the plague lasts over two months.
Mr Robin suggested that the government bail these small businesses out of this crisis situation.
An incentive package similar to that of the export-oriented industries should be declared, he observed.
Some 0.7-1.0 million people are directly or indirectly dependent on the sector, Mr Robin mentioned.
Mir Akter Uddin Dulal, managing director of popular food chain Star Kabab and Restaurant, told the FE that only one out of nine Star Kabab outlets remains open.
The number of customers, mostly students and office goers, in all his restaurants has dropped since the first week of March.
The restaurants have become totally empty after March 24, Mr Dulal continued.
"I don't know what will happen to business and what type of loss I may face, but still I pray to the Almighty for the rapid end to COVID-19."
Fast-food franchise KFC Bangladesh is open with eight outlets in Dhaka and one in Chittagong for takeaway and home delivery services of three items only, according to their Facebook page.
Customers must follow cashless prepayment methods like cards and bKash to avoid contact during delivery at the doorstep, KFC said in a post.
Coopers Bakery Bangladesh, a fast food shop and bakery, is also continuing its operation through online delivery system.
With shutdown of most restaurants and fear of people of getting infected by outsiders, orders in online food delivery platforms have fallen significantly.
However, official figures were unavailable with the platforms during the filing of this report on Friday.
Foodpanda Bangladesh CEO Ambareen Reza recently said, "We're in constant communication with our restaurant partners in line with the latest World Health Organization notices."
"We're advising them on health and safety practices beyond our food hygiene expectations," he added. Meanwhile, another online food delivery platform, Hungrynaki has shut down its operations amid coronavirus situation on March 24.
In a statement, it said: "Analysing the current situation and considering health safety of our delivery executives, customers and partners, we're closing our operation until further notice."