The city's cattle markets saw a substantial increase in sales of sacrificial animals on Monday with a high demand for small to medium-sized cattle.
With Eid-ul-Azha just one day away, buyers were seen crowding the cattle markets despite intermittent rains on Monday afternoon.
Visiting different cattle markets at Hazaribagh, Rahmatganj playground, Shanirakhra, Khilgaon and Golapbagh, the FE correspondent found that customers were busy purchasing cows of their own choice.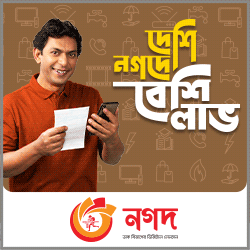 Many of them said the prices of animals, especially small and medium-size ones (weighing 100-160 kgs) were much higher this year.
"Actually, there was no sale of cows on Saturday and Sunday last. But today (until the afternoon) I have sold five cows with a little bit profits," Md Shakil, an owner of a cattle farm at Basila, Mohammadpur, told the FE at Golapbagh market.
Shakil who had brought 15 cows to the market expressed the hope that he would be able to sell the rest of his cows by today (Tuesday).
"I purchased a cow weighing 120 kgs at Tk 90,000," Md Khorshed Alam Bablu, a resident of Fakirapool area, said adding that prices were much higher this year.
Traders said they would sell the rest of cows with minimum profits.
"If I get minimum profits, then I would sell all my cows," Md Babul Mia, a trader from Dewanganj upazila of Jamalpur district, told the FE at Rahmatganj cattle market.
He had already sold 10 out of his 25 medium-sized cows. He also hoped to sell the rest of the cows by today (Wednesday).
Traders said most of them had mainly brought small and medium-sized cows apart from some big-sized cows at the cattle markets with a hope to make good profits.
Most of the customers preferred to purchase small and medium-sized cows considering their financial ability, they added.
Small and medium-sized cows were sold between Tk 70,000 and Tk 120,000 on the day.
Many traders, who brought big-sized cows (weighing more than 200 kgs) said there was hardly customers for such animals this year who were offering much lower rate than their rearing costs.
Haider Ali, a Pabna-based cattle rearer, told the FE at Hazaribagh Cattle Market that he has four cows weighing 260-300 kgs each.
He said many traders will be forced to return home with their big animals due to a lack of sufficient customers.
However, the prices of goat remained static on the third day than that of the previous days as medium to big-sized Black Bengal goat were traded at Tk 8000-Tk 25,000 each.
Of the total temporary cattle markets this year, 10 were set up in Dhaka South City Corporation while nine in Dhaka North City Corporation (DNCC) areas.
Most of traders and buyers were found reluctant to follow the health safety guidelines at the cattle markets despite an alarming increase in Covid-19 infections.
The DNCC fined the lessee of Gabtoli permanent cattle haat Tk 1.0 million on the day for violating health safety guidelines.