Dhaka was once a beautiful and an ideal city for peaceful and comfortable living. Most importantly, it was suitable for trade, business and administrative activities. Small wonder that it became the provincial capital and a commercial centre of the Mughal Empire. As the global centre of the muslin, cotton and textile trade, the city was once called the Venice of the East. Sadly all these fame, glamour and dignity are now the things of the past. The Ill-conceived idea of urbanisation, poor planning and sheer mismanagement over the years have nowmade it a city of sad tale of misery.
With over 48000 people per square kilometer, Dhaka, the capital of Bangladesh, is now the fourth most densely populated city in the world. There are several other cities in the world that are equally, or in cases more densely, populated than Bangladesh. But in those countries, the problem is taken care of through proper planning and good management. It is the overpopulation that makes it difficult for even the most developed country to ensure a good living condition for its citizens.
Unfortunately, Dhaka is not only densely populated, it is also highly overpopulated. Nearly 18 million people already live in the city. Add to it thehalf a millionthat join every year. So, Dhaka is home to a population that is at least three times its actual capacity. According to Far Eastern Economic Review, it will be home to 25 million people by the end of 2025. Poor planning and terribly inefficient management have made it even worse. No wonder, according to Global Livability Index 2019, Dhaka is the third least livable city in the world. The city's air is heavily polluted. It is probably one of the most polluted cities in the world. Greenhouse gases (GHGs) emitted mostly by innumerable unfit buses and minibuses plying the streets are the major sources of its air pollution. But these polluting buses arealso causing health hazards.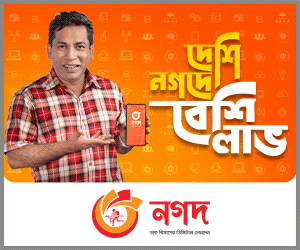 Traffic jam has turned the daily trips of commuters into nightmares. The unbearable traffic congestion coupled with incessant horn-blowing by the buses, trucks and private cars has only made matters worse. As if it was not enough, with extended summer and warmer winter and more and more concrete structures, the city is getting hotter increasing the sufferings of its inhabitants.
According to reliable sources, Dhaka city has only 7 percent of its land area for roads whereas it should be 25 percentaccording to the accepted standards. The number of registered vehicles plying the streets is more than 17 lac as against the existing road capacity of only about 4 lac. It has made it all the more difficult to manage themessy traffic. According to some estimates, nearly 4 lac non-motorised vehicles, rickshaws,are on the streets of Dhaka.
It is not hard to understand how complexit is to manage the city's traffic in such a chaotic situation. As is reported by World Bank, in the last 10 years, the average traffic speed in Dhaka has dropped from 21 kilometer per hour (kmph) to 7 kmph and by 2035 it may drop to 4 kmph which is slower than walking speed.
According to another study, traffic congestion in Dhaka city eats up around 5 million working hours every day and costs the country USD 11.4 billion every year. Despite steps like widening the roads, expansion of footpaths and building flyovers and overpasses, there has been hardly any improvement in the traffic situation. How far the mega- projects like metro rails, ring roads and rapid bus routes will help improve the traffic congestion is yet to be seen.
The woes of the citizens of Dhaka city are multifarious. Water-logging is acute. A couple of hours' rainfall forces pedestrians to walk in the knee-deep water. Most of the canals, drains and wetlands have been filled up either by dumping garbage or building houses destroying the natural drainage system of the city. Safe drinking water despite all the efforts by WASA is scarce. Sanitation system for the general public is awful.
In the past, there were so many beautiful gardens, parks and trees in the city. Now it is a barren city as 70 percent of its area are covered by concrete structures and 20 percent by slums leaving hardly any room for greenery. Migration to urban centres from rural areas mainly due to worsening climate change, is alarmingly increasing. Increasing salinity level in the soil and water could displace a huge number of people from the coastal areas of Bangladesh. World Bank projects over 13 million people will be internally displaced by 2050 leading to migration towards major cities like Dhaka only to make things worse.
Experts suggest, planned development of secondary cities with potential economic opportunities, medical facilities and quality education for the children can salvage the capital from getting drowned in mass internal migration. Decentralising the capital city has been long-felt need.
The industrial units, the RMG units in particular, and some government establishments have to be relocated tothe adjacent districts. Those places may includeMunshiganj, Manikganj, Bhairab, Ghorashal, Mymensingh, Tangail and Cumilla.
As a short -term measure, traffic management should get the top priority. Experts say, the city's traffic congestion may be reduced by 40 percent just by improved traffic management and increasedpublic awareness. All the unfit buses should be gradually replaced by environment friendly ones.Also, signal lights should be installed at the crossings where those are missing. To avoid chaotic traffic,all the signal lights should be synchronised.
And to tackle air-pollution, more and more trees have to be planted in and around the city.If necessary, experts from countries like Britain, Singapore and Japan may be hired for the purpose. Singapore may the most ideal country for us to take help from in this respect.
The writer is a retired Merchant Marine Officer.
He can be contacted at