Stocks extended rally for the fifth straight session on Tuesday as investors continued to put fresh bets on major sector issues amid the growing optimism.
The market started on an upbeat trend which continued till the end of the session with no sign of reversal as investors were hopeful about a positive outcome from the meeting between the central bank and the securities regulator.
The DSEX, the prime index of the Dhaka Stock Exchange, crossed the 7000 points mark after nine trading days to settle at 7048, after surging 70.45 points or 1.0 per cent.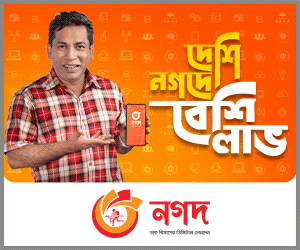 The DSEX added 332 points in the past five consecutive sessions.
Two other indices also ended higher. The DSE 30 Index, comprising blue chips, rose 25.67 points to finish at 2,660 and the DSE Shariah Index (DSES) gained 15.39 points to close at 1,480.
Market analysts said investors are hopeful about a positive outcome from the meeting between the Bangladesh Bank and the Bangladesh Securities and Exchange Commission (BSEC) at the ministry of finance.
Turnover, a crucial indicator of the market, jumped to Tk 13.31 billion, which was 50 per cent higher than the previous day's tally of Tk 8.87 billion.
Gainers took a strong lead over the losers, as out of 375 issues traded, 274 advanced, 69 declined and 32 remained unchanged on the DSE trading floor.
Beximco was the most traded stock with shares worth Tk 1.30 billion changing hands, closely followed by ONE Bank (Tk 1.0 billion), GSP Finance (Tk 431 million), Power Grid Company (Tk 313 million), and First Security Islami Bank (Tk 280 million).
Khan Brother PP Woven Bag Industries was the day's highest gainer, soaring 10 per cent while Aman Feed was the day's worst loser, losing 3.57 per cent.
The Chittagong Stock Exchange (CSE) also ended sharply higher with the CSE All Share Price Index – CASPI –rising 204 points to settle at 20,606 and the Selective Categories Index – CSCX, soaring 120 points to close at 12,385.
Of the issues traded, 210 advanced, 61 declined and 20 remained unchanged on the CSE.
The port city's bourse traded 17.80 million shares and mutual fund units with a turnover value of Tk447 million.