The largely state-owned Rupali Bank may offload more 20 per cent of its shares and the Bangladesh Development Bank Limited (BDBL), a public sector development financing institution (DFI) get listed on the bourses.
The capital market supervisory committee, formed by the finance ministry in 2019, discussed the issues at its third meeting held in Dhaka on Tuesday, according to meeting sources.
The supervisory committee also discussed the issues relating to bringing more good shares to the bourses, strengthening the Investment Corporation of Bangladesh (ICB), redesigning the tax measures for development of the country's stock market.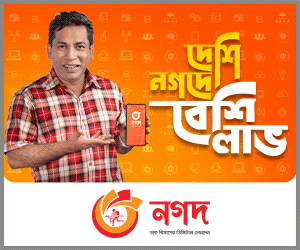 It reviewed the present situation in the stock market, which has been experiencing severe ups and downs during the last couple of months over the alleged discord between two regulators -- the Bangladesh Bank (BB) and the Bangladesh Securities and Exchange Commission (BSEC).
The supervisory committee, formed in 2019 to oversee implementation of the recommendations of a meeting. Finance Minister A H M Mustafa Kamal had chaired the meeting.
The committee, headed by Financial Institution Division Additional Secretary Mofiz Uddin Ahmed, in the meeting at the Bangladesh Secretariat discussed the progresses made so far in implementing the recommendations -- submitted to the finance minister for development of the stock market.
After the meeting, Mr Ahmed told newsmen that the meeting sought some more information from the institutions concerned to know about the implementation progress of the recommendations.
He was hopeful of coming with some concrete messages, related to development of the stock market, for investors in a couple of weeks.
"Hopefully we will be able to tell you something concrete after the next meeting."
Asked whether the issue of banks' exposure limit in the stock market was discussed in the meeting, Mr Ahmed declined to comment. "These are very sensitive issues. I don't want to talk about these."
A participant of the meeting told the FE that the meeting discussed about bringing more good shares, including those of multinational companies, to the bourses, and strengthening the ICB by expanding its investment capacity.
He said the state-owned Rupali Bank has 10 per cent shares in the stock market. Offloading its 20 per cent more shares and bringing the Bangladesh Development Bank Ltd (BDBL) into the share market was also discussed in the meeting.
It was told that 31 banks participated in formation of a special fund worth Tk 43 billion, of which some Tk 18 billion was invested in the stock market so far.
Officials from the BB, the BSEC, and the National Board of Revenue (NBR) attended the meeting on Tuesday.
The second meeting of the committee had decided that the BSEC would ensure investment by the mutual funds in line with the Mutual Fund Rules.
Besides, the Internal Resources Division would be asked to take measures to avoid double taxation in stock market transactions.