Stocks ended higher for the second day in a row Tuesday, with turnover hitting nearly one month high on the major bourse, as investors continued to show their buying appetite on banking sector issues.
Brokers said the market ended higher as heavyweight banking stocks continued to gain. Of the 30 listed banks, 25 closed higher with four banks featured in the day's top gainer chart.
However, share price of newly listed Oimex Electrode fell 2.36 per cent to close at Tk 111.50 each, after flying debut in the previous day.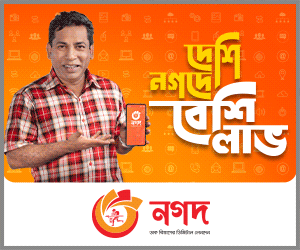 The market started with a positive note and the positive trend sustained till end of the session amid modest volatility in the first hour, finally closed more than 25 points higher.
DSEX, the prime index of the DSE, which replaced the DGEN in four-and-a-half-year back, settled at 6,130, advancing 25.18 points or 0.41 per cent over the previous session.
The two other indices edged higher. The DS30 index, comprising blue chips advanced 2.24 points or 0.10 per cent to close at 2,211. The DSE Shariah Index (DSES) rose 2.85 points or 0.21 per cent to finish at 1,329.
Turnover, the most important indicator of the market, stood at Tk 7.44 billion, which was 10.70 per cent higher than the previous day's turnover of Tk 6.72 billion.
Losers took a modest lead over the gainers as out of 334 issues traded, 172 closed lower, 114 closed higher and 48 remained unchanged on the DSE trading floor.
IFAD Autos topped the day's turnover chart with 2.73 million shares of Tk 387 million changing hands, closely followed by City Bank, Shahjalal Islami Bank, BBS Cables and Square Pharmaceuticals.
Shahjalal Bank was also the day's best performer, posting a gain of 6.71 per cent while BD Welding was the day's worst loser, plunging by 5.55 per cent.
The port city bourse Chittagong Stock Exchange (CSE) also ended higher with its Selective Categories Index - CSCX –advancing 59 points to close at 11,512.
Losers beat gainers as 128 issues closed lower, 88 closed higher and 24 remained unchanged on the CSE.
The port city bourse traded 13.85 million shares and mutual fund units worth Tk 446 million in turnover.