Dried fish processing plagued by problems
COX'S BAZAR: Fish drying is now going on in full swing in the coastal district. Hundreds of fishermen and workers in several areas of Cox's Bazar have been found to be busy drying fishes, currently being caught in plenty.
Despite having huge potential and employment opportunities, the business environment is plagued by allegations of discriminatory wages, and the use of harmful ingredients.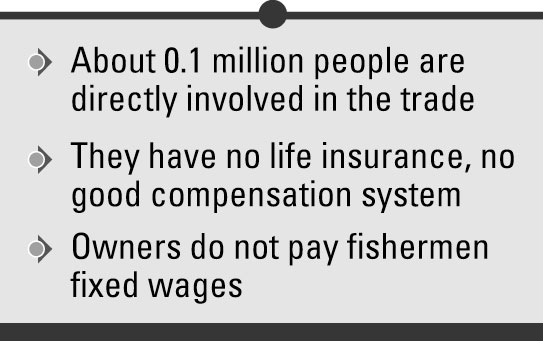 Nur Mohammad, a fisherman who works on a contract basis, alleged that their employers do not value their wages. "The owners of the trawlers do not pay us fixed wages. And, we are not paid on time."
Another fisherman Atiq said, "The fishers risk their lives to catch fishes from the deep sea. But we have neither life insurance nor any compensation system for our life."
According to them, around 0.1 million (100,000) people are directly involved in the dry fish (Shutki) trade for their livelihood.
Every year from September to February, fishermen catch fishes from the deep sea and later dry them in the sun. A total of 1,300 fishing trawlers are now engaged in catching fish every season.
Varieties of fishes like Laitta, Chhuri, Maitta, Rupchanda, Faisya, Ulua, Lauksya, Sundari, Guijya and Chameli, among other fishes are mostly caught and dried as Shutki.
Rahima Begum, wife of Samiti Para's Ali Akbar, said that her husband lost his life two years ago while fishing in the deep sea. But the owner did not help them financially.
"I have to spend our days in extreme misery with three of my daughters and two minor sons. It is quite difficult for me to make both ends meet. I cannot even educate my children", she added.
Akhter Kamal, a councilor of Cox's Bazar municipality, said that dried fishes are not completely safe for public health.
"These fishes contain a lot of salt and pesticides, making them harmful for all of us," he explained adding, "Although there are healthy rules of producing dry fishes, most of the workers do not comply with them."