No let-up in essentials' price hike
Chicken, egg, flour, fish, onion, veggies, ginger prices show uptrend
Many more essential food items, including flour, chickens, egg, fish, onion, vegetables and ginger, became dearer last week further battering the commoners, already hit hard by the price hike of staple rice and other food items last month.
Prices of wheat flour, both coarse atta and finer flour (maida) increased by Tk 2.0-3.0 per kilogram in the city. Maximum retail price (MRP) of loose atta reached Tk 58 and loose maida Tk 66 a kg on Saturday.
MRP of packet atta and maida of different brands remained at their previous highs of Tk 65 and Tk 75 a kg respectively.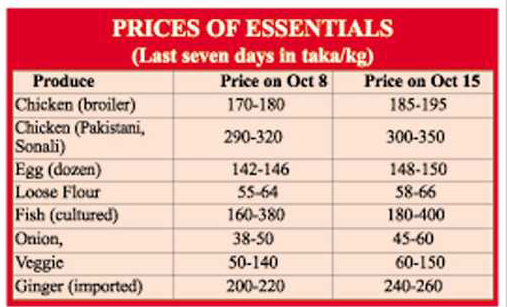 Gaji Sohel Rana, a grocer at Townhall Bazar at Mohammadpur in the city said the loose coarse atta and maida got costlier in the last 7 days.
Broiler chicken, a source of protein for the commoners, witnessed a Tk 15 per kg hike last week. Broiler chicken was sold at Tk 185-195 a kg while farm egg price increased by Tk 5.0 a dozen (per 12-piece) to Tk 150 a dozen in the 7-day period.
Fish, one of the main sources of protein, calcium and calories, also showed considerable price hike in the period.
Cultured fish including pangas, tilapia and koi prices increased by Tk 20-30 a kg to Tk 180-Tk 260 a kg. Visiting three kitchen markets on the day this correspondent noticed that rui was sold at Tk 280-400 a kg. Rui fish is the second best delicacy of Bengalis after hilsa in terms of popularity.
Kitchen staple onion got pricier by Tk 10 a kg as local varieties of onion was retailed at Tk 50-60 and imported one at Tk 45-55 a kg on the day.
Onion price showed hike after remaining almost unchanged in the last one and a half month, said Kamal Khan, an onion wholesaler at Sadeq Khan Krishi Market in the city's Rayerbazar-Beribadh area.
Tuber spice ginger marked a Tk 20-30 per hike as was sold at Tk 260 a kg at the retails. Traders attributed the price hike to a squeeze in supply amid low import as well as a notable decline in local production.
Vegetables prices witnessed a Tk 5.0-10 per kg hike in the period. Tomato, supply of which is likely to increase day by day as winter is not far away, was sold at Tk 140-150 a kg. Carrot, another winter veg, was retailed at Tk 130-140 while local bean at Tk 120-130 and long-yard bean at Tk 90-100 a kg on the day.
All kinds of gourd species were retailed at Tk 60-80 a kg with bottle gourd one piece retailing at Tk 60-70. Early-harvested cauliflower and cabbage was sold at Tk 50-60 a kg while leafy was retailed at Tk 15-35 per bunch.
However, rice - the main staple of people in the country - remained at its previous high in terms of price. Coarse varieties of the staple were retailed at Tk 50-54 a kg, medium one Tk 56-65 while the finer variety at Tk 72-98 a kg in different city markets and grocery shops.
According to the Bangladesh Bureau of Statistics (BBS), the monthly inflation rate rose to a 12-year high at 9.52 per cent in August this year. The inflation was 9.13 per cent in September, said the BBS in its latest release. The food inflation remained above the threshold of 10 per cent in the two months.
Bangladesh witnessed the highest ever inflation of 10.2 per cent in May, 2011 and the figure has never been above 9 per cent since then.
Consumers Association of Bangladesh (CAB) Secretary Humayun Kabir Bhuiyan said higher inflation is unlikely to end any sooner, rather the uptrend may continue for some times more as essentials' price hike shows a very little sign of abetting within a short time. The prices may gradually rise in the day ahead.
He also noted that millions of people have become poor from lower-income group amid a gradual hike in commodity prices as well as squeeze in their income in the last few years.
Value chain expert Dr Md Anisur Rahman told the FE that apart from some reasons like Russia-Ukraine war, local currency depreciation or fuel price hike, oligarch of a section of giant companies have largely caused a surge in essentials' prices in Bangladesh.
The Directorate General of National Consumers Right Protection (DNCRP) and the Bangladesh Competition Commission (BCC) have found alleged involvement of almost all leading companies and suppliers in price manipulation of rice, flour, egg, chicken and other essentials, he mentioned.
He said if their guilt is proved those entities should be given exemplary punishment by the government to bring stability in the volatile market.
The country's existing business policies have created some corporate giants who have major share in the market.
For their activities, fair competition or scope for competition gradually shrunk (in the last several years), he added.