Onion dearer amid record output, cheaper imports
Onion prices have witnessed a notable hike in the last three days after remaining steady for almost two months raising consumer woes further.
But the spice has showed a Tk 5.0-15 or 15-per cent hike per kg on average during the period, according to the trading corporation and city groceries.
Market experts termed the sudden hike by such a large margin abnormal amid a good local harvest and comparatively low import costs, suggesting intervention of the monitoring agency.
Wholesalers and retailers, however, passed allegations to each other for these soaring prices.
Locally produced onion retailed at Tk 55-65 a kg which was Tk 45-50 earlier, according to kitchen markets and groceries in Dhaka city.
Imported Indian onion sold at Tk 45-50 a kg on the day depending on quality. It was Tk 35-45 three days ago.
The Trading Corporation of Bangladesh recorded an average 15-per cent hike in onion prices in a week.
Gausul Ajam, a grocer in Buddhijibirdhal area of Rayerbazar, said wholesale prices increased by Tk 6.0-7.0 a kg in a week.
The price witnessed a hike by Tk 4.0 a kg on Saturday alone, he added.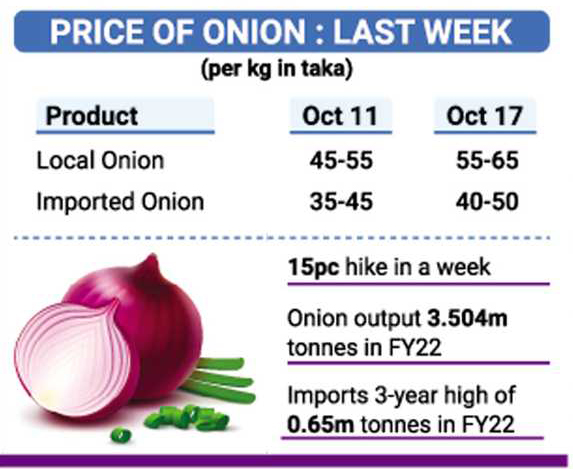 Narayan Chandra Saha, a Shyambazar-based trader, in the capital said onion prices witnessed a maximum Tk 3.0 a kg following normal market trends.
But grocers and retailers have been charging much higher than the actual wholesale prices, he cited.
Mr Saha pointed out that onion prices in India rose by Tk 2.0-3.0 a kg. Dollar volatility also discourages many to import onion as profit margin is also lower.
But there is no shortage of the item as production during the December-April period was outstanding amid the introduction of hybrid varieties in many new areas.
Dr Md Anisur Rahman, a value-chain specialist, said as per agriculture ministry, Bangladesh has produced more than 3.5-million tonnes of onion this year which is more than its annual demand.
Import cost is also much low at Tk 20-24 a kg while local importers are bringing in more than 500 tonnes from India a day.
So, there is no logical reason behind such an astronomical hike just in days without any manipulation, observed Mr Rahman.
He said big wholesalers and importers in onion hubs like Faridpur, Rajbari, Gopalganj, Pabna, Bogura, Rajshahi, Dinajpur, Jashore districts and Shyambazar in Dhaka should be brought under strict monitoring.
According to the agriculture extension department, onion production reached an all-time high of 3.5-million tonnes in fiscal year 2021-22 when import was at a three-year high of 0.65-million tonnes.