The appointment of additional number of doctors and nurses to fight coronavirus pandemic will push up the operating expenditure of the government by around 11 per cent in the next fiscal year (FY'21) on top of other public sector spendings, finance ministry officials say.
The government's operating expenditure includes salaries, allowances, payment of pensions, interest, subsidy, incentives and grant. The revenue budget also includes capital expenditure and spending on supply and services.
According to people involved in budget preparation, some Tk 3.518 trillion has been earmarked for the next fiscal year as operating expenditure.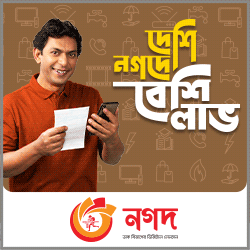 In the revised budget for the outgoing fiscal year, the amount was set at Tk 3.086 trillion.
Salaries and wages of employees of state-owned enterprises, especially the loss-making concerns like jute and textile mills, are also included under the operating expenditure head.
Officials said the public hospitals faced acute shortage of doctors, nurses, technical persons and other health workers and found them ill-equipped to battle the Covid-19, which has claimed more than 750 lives in the country while infecting over 55,000.
Against this background, the government in early May appointed 2,000 doctors and 5,054 nurses and plans to appoint 5,000 medical technologists to help narrow down the manpower shortage in the health sector.
Appointing more doctors is also under plan to increase medical staffing in public hospitals in rural areas, they said, adding these will increase government's expenditure significantly in the next fiscal year.
A finance ministry official said since the Covid-19 eroded the buying capacity of people, the government will have to continue providing food grains at subsidised rate over a long period to help them overcome the situation.
The expenses on account of incentives and subsidies for various export-oriented sectors, other than the Tk 1.0 trillion relief packages announced, will also go up in next fiscal year to offset the Covid-19 impacts, he said.
For the next fiscal year, some Tk 1.34 trillion has been earmarked as subsidies, incentives, supply, and grants, up from Tk 1.208 trillion in the revised budget for current fiscal year, according to officials.
The government is likely to spend Tk 650 billion on salaries and allowances of public sector employees in the next fiscal year, which was Tk 601 billion in the revised budget of the current fiscal year.
An amount of Tk 543 billion is going to be earmarked for the next fiscal year to pay salaries and wages in public sector textile and jute mills.
A portion of the allocation will also be spent on the acquisition of land and assets for setting up of 100 economic zones, which are expected to ensure industrialisation while attracting foreign investments, according to officials.
Talking to the FE Wednesday, executive director of Policy Research Institute Dr Ahsan H Mansur said the government needs to work for the interest of the country and cut the unnecessary spending.
"There is no need to spend billions of taka year after year to pay wages in loss making state-owned enterprises," he said.
He deplored the government's failure to shut down those loss making concerns and said vested quarters in politics and bureaucracy who derive undue benefits from those concerns keep those alive.
"We also have to rethink about providing subsidies for years in the name of boosting export revenues," he said.
Former lead economist of World Bank's Dhaka office Dr Zahid Hussain told the FE that increased spending in health sector this year is logical considering the impacts of Covid-19 and other basic weaknesses.
"But, since revenue collection is likely to see a big shortfall next year as happened this year, the unnecessary and lavish spending should be avoided," he said.
Mr Hussain suggested that both the development and non-development budgets have some non-important spending which the government can easily avoid next year amid possible shortfall in revenue earnings.