Different scheduled banks have disbursed agriculture credit of Tk 259.67 billion in the July-May period of the fiscal year 2021-22 against the disbursement target of Tk 283.91 billion.
The Bangladesh Bank on Tuesday said the banks have achieved 91.46 per cent of the disbursement target in the 11 months, reports UNB.
In the previous FY 21, Tk 219.70 billion was disbursed against the target of Tk 262.92 billion, which was 83.56 per cent of the target.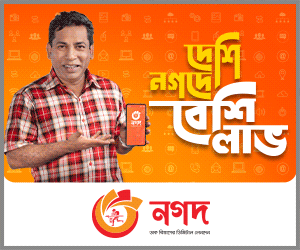 Md. Abdul Hakim, executive director and former GM of the Agriculture Credit Department of the central bank, said that the central bank hoped the 100 per cent agriculture credit disbursement target will be achieved this fiscal.
According to a report of the agriculture credit department of the central bank, demand and collection of agricultural loans have increased in the current financial year as compared to last fiscal.
The agriculture loan disbursement has increased by 18.18 per cent in the current financial year as compared to the same period of the previous financial year.
However, due to the adverse impact of the Covid-19 pandemic, the distribution and collection of agricultural loans decreased in the last fiscal year.
In the current FY 22, the target for government-owned commercial and specialised banks was set at Tk 110.45 billion. In the first 11 months (July-May), these banks disbursed Tk 106.94 billion, which was 96.83 per cent of the target.
During this period, against the set target of Tk 173.46 billion for private and foreign banks, Tk 152.71 billion or 88.04 per cent has been disbursed.
At present, the outstanding balance of agricultural credit in the banking sector stands at Tk 495.51 billion. Of this, the defaulted debt in the agricultural sector till April was Tk 36.52 billion or 7.67 per cent of the total agriculture credit.